Part IV (continued)
by Donna Rogers
Reprinted with permission from
Photographics Processing Magazine-Nov. 2001
Digital Saves Times, Emotions
Those shots will all be processed in-house. Just four years ago FDNY photographers were processing black and white in trays and they outsourced some of their film developing, which Leavy frowns upon for sensitive evidence. "I can't imagine sending these photos to a lab," he says.
The FDNY unit now processes 500 to 1,000 rolls on any given day. All images are digitized so when an image is needed, the staff can burn it to a CD or print it on photographic paper up to 10 x 13.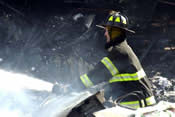 Digital has streamlined their operations. If they had been using entirely conventional film, Leavy feels they would have been overwhelmed by now with backlogged work orders. By utilizing the digital processor, they have eliminated the film developing step, and thus saved time. In the end, Leavy emphasizes, "digital is a lot easier to handle."
The digital equipment has permitted the unit to become a full production facility, as well as a library where images can be searched by date or ID number. The next step, says Leavy, is to determine the best way to save and access the files so images can be delivered into the right hands even faster.
Click to continue the article with Part 5 - Return to 'Normalcy'
Back to Part 3 - Ground Zero
All photographs taken by the FDNY Photo Unit
©1998-2000 FDNY All Rights Reserved