Part III (continued)
by Donna Rogers
Reprinted with permission from
Photographics Processing Magazine-Nov. 2001
Ground Zero
Family members of firefighters lost in the collapse of the WTC have been inundating the unit with requests for photos of previous fires, searching for a morsel of a memory of their loved ones on the job. Leavy says that they often are requested to make in-house enlargements up to 16 x 20.
In the hours and days following the September 11 attack, the streets of lower Manhattan were impassible. The Photo Unit shot aerial scenes of downtown to map out the rescue effort. They worked in support of the fire department's Phoenix Unit, which is in charge of the logistics of getting to an emergency. After the towers collapsed, there was debris everywhere and streets had disappeared, Leavy explains. Using these aerial maps, the Phoenix Unit created new geographic overlays of the city's topography, quickly remapping emergency and demolition removal routes.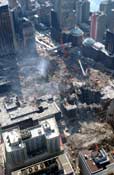 Every day, these maps were updated so that rescue and recovery workers might be best directed to areas where they might recover bodies. By flying very low in helicopters, the photographers were also able to pinpoint areas with questionable structures. They burned CDs of the images and gave them to whoever needed it, Leavy explains.
On a continuing basis, the unit has been tasked with chronicling the scene at Ground Zero with still photos (the AV Unit is doing the same with video). "We are documenting the work of the fire department," Leavy notes. They continue to record it on a daily basis—how it changes and how it progresses day-to-day. He notices that the change at the site has been dramatic as time goes on. After just one month, it went from having many, many volunteers present to being populated with a much narrower contingent of experts.
With the chances of pulling survivors from the wreckage nil after so much time, the FDNY photographers began looking at the bigger picture, at the status of workers and debris removal. "We are taking human interest shots now," Leavy reflects. "It's history in the making."
Click to continue the article with Part 4 - Digital Saves Time, Emotions
Back to the Part 2 - Role of the Photographer
All photographs taken by the FDNY Photo Unit
©1998-2000 FDNY All Rights Reserved