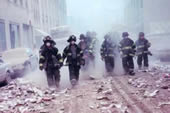 by Donna Rogers
Reprinted with permission from
Photographics Processing Magazine-Nov. 2001
The Photo Unit at the Fire Department of New York has been on overdrive since September 11. With the loss of over 300 fellow firefighters, the job is permeated with a profound heartache while also being extremely hectic.
While the firefighters of this unit do not fight fires in their capacity, they still do a valiant job, and were called to do so on that fateful morning in September.
Lt. Richard Smiouskas, the head of the unit, responded to the call at the World Trade Center and arrived early to document the scene. He was there when the devastation started, when the first tower collapsed. While he narrowly escaped, one of the two digital cameras owned by unit, a Nikon D-1x, was destroyed.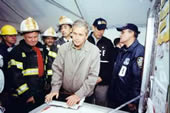 Things have not been the same since then. The greatly-expanded workload and the many tasks requested of them as a consequence of the WTC attack "challenged our system," says John Leavy, a member of the unit, a photographer and a firefighter. "What we had wasn't adequate for this project."

Several photographic equipment vendors came to the units aid and enabled the department to quickly gear up for its expanded role. Due to the actions of Nikon's Richard Lopinto, Fujifilm's Manny Almeida and others, the fire department's lab was equipped with two extra Nikon D-1x digital camera outfits, a brand new Fuji Frontier 350 minilab and several Lexar flash memory cards to store images.
In addition to the gifts of gear, Nikon provided on-the-spot training on their newest digital camera, which is reported to have many more features than its previous model. The other companies also contributed on-site training on hardware and recommendations on new workflows and ways to increase productivity.
"We started shooting a lot more digital work," Leavy explains. And the donated equipment helped them keep up with the demand and was enough to "get us over the hump."
Images are stored and can be viewed on a PC using a program called ACDC. Thumbnails can also be examined via the Frontier. In the not-too-distant future the unit hopes to create a database of the current day's work so that department members can simply go to the database and tap into the images they need.
Click to continue the article with Part 2 - Role of the Photographer
All photographs taken by the FDNY Photo Unit
©1998-2000 FDNY All Rights Reserved