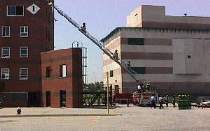 Probationary Firefighter's School, located at The FDNY Fire Academy on Randall's Island, is charged with the training of new recruits (AKA Probys) of the FDNY who will eventually be protecting the lives and property of the citizens and visitors of The City of New York. The members of the Probationary Firefighter's School take this heavy responsibility very seriously. It is for this reason that the eighteen week curriculum is one of the most rigorous Fire Service career preparations in the country. The curriculum includes a rigorous physical fitness routine and intense classroom instruction equivalent to 20 college credits.
The FDNY Physical Fitness Unit guides the students through an exercise routine that includes a firefighters combat challenge course, daily 3 mile runs and calisthenics. Classroom and Hands-On training include; Evolutions, Fire Science, Fire Investigation, Certified First Responder – Defibrillator certification, Haz-Mat Awareness, Building Inspection and Peace Officer Training.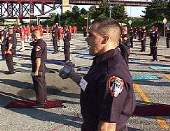 Class sizes can vary, but in recent years typically consists of 300 Probys. They are under the direction of 4 Drill Instructors and 38 fire instructors. These instructors are an elite group selected from a pool of volunteers according to teaching qualifications, FDNY job experience, special training and life experience. Drill instructors are selected from those volunteers with a military service back-round and are responsible for guiding the Probationary Firefighters daily routine. Strict adherence to FDNY policy and procedure is practiced throughout the training period.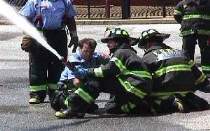 Probationary Firefighter School has continually expanded it's curricula to keep pace with the rapidly advancing field of firefighting. A recent structure and equipment upgrade to Building 1 allows Probys to experience simulated fire conditions in a High Rise Multiple Dwelling. The Fire Academy is also equipped with a new "Field House" that is used to familiarize the candidates with most building types they will encounter within the five boroughs under controlled weather conditions.
Another recent addition in the Probationary Fighter School Curricula is the "Flashover Simulator". This "Live Fire" Simulator exposes the Probys to the dangers of an untenable fire area. They experience the high heat, smoke and rapidly changing conditions in a room specially designed to create "flashover" conditions. New challenges such as alternate fuel vehicles, hotter burning fires due to modern materials and construction techniques, terrorism, and a revamped fire prevention program are all being incorporated into the curriculum.
As any veteran firefighter will tell you, there is always something to learn in the field. However, the foundation instilled in them in Probationary Firefighter School stays with a firefighter throughout his or her career and starts them in the right direction. Here at "Proby" School we strive to provide the highest caliber education to all our recruits for the health and safety of the public and themselves.