REFLECTIONS AS WE ENTER A SIGNIFICANT YEAR
The beginning of a new year always offers an opportunity to take inventory and think about goals and the future. We all know that 2011 will be momentous for being the 10th anniversary of 9/11, and there certainly is a sense of anticipation that comes with the months leading up to the anniversary day. It makes the questions that come with New Year's resolutions all the more weighty - what have you resolved to do this year? What improvements or changes would you like to make? How are you doing now, and how are you feeling about where you are at?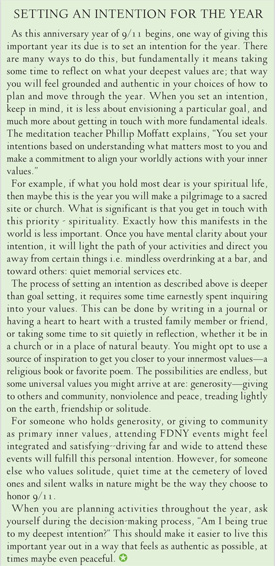 This also brings up many thoughts related to the anniversary and the 10 years that have passed since 9/11. When you think back over the past 10 years so many different thoughts are likely to come to mind. You are probably filled with thoughts and memories about your loved one. There is no escaping the many sad and traumatic memories you have endured, but along with these, are there any thoughts about personal growth, yourself, and the path you have travelled? As you reflect, can you pay attention to not only what is sad and angering, but also to thoughts about progress made and opportunities that only this tragedy could have brought forth? There are many things to consider as this year begins.
There will be a great deal of attention paid to 9/11 this year, particularly as the summer and fall get closer. Decide how much you want to tune into all of that and what you do and don't want to participate in. This will be different for everyone. Don't think that just because one family member is doing something that you have to as well. Think about what significance this anniversary has for you. Does it feel different for you than other years?
As we've discussed at length in these pages, anniversaries, particularly big ones, trigger memories and emotions. Stay aware of that and try to stay ahead of it as much as you can. Of course there will be times when something will pop up in the news that you weren't expecting, and you'll have to continue figuring out how to handle those moments. But there will be a great deal of coverage and reminders that you will know about in advance, and decide what is good for you to listen to and what you need to steer clear of.
We've also talked about the importance of self care, which will be quite important this year. Again, this will look different for each one of you. Some of you will find great comfort in getting involved in everything planned this year. Some will want to stay connected with the family members you've become so close with over the years. For others, self care will be a yoga retreat, or a relaxing vacation, time spent with family members, or sessions with your therapist. Whatever it is that has helped you with your healing and assisted you in your moments of distress over the years will be what you draw on this year. Keep it up, stay the course.
Plan as much as you can for how you want to spend key moments of this year, both in September and in other parts of the year. The more you plan for what works best for you and your family, the more control you will feel like you have over your experience. Talk openly with members of your family about their thoughts for the year, and consider all ideas. It might be the year to stick with tradition, or it might be the year to try something new – a vacation to someplace new, or a new ritual for remembering. Family members might have different feelings about what they want to do on the anniversary, or at other key moments in the year. It might make sense to create different sets of plans for different people. Try to stay open to the possibilities.
Please let us know at the CSU what kind of support you need from us this year. We are always here to offer a listening ear, but if there is an event or gathering you think would also be helpful
to the families this year please share your ideas. Contact Kim Ahearn at (212) 570-1693 x 314 or ahearnk@fdny.nyc.gov.
Dear Families,
I wanted to take this opportunity to inform you that I left my position as Social Worker/Assistant Program Director for the Line of Duty Family Connections program of the FDNY-CSU on December 17, 2010. I started a new position as a Social Worker at the VA hospital in the New Year.
It has been such a pleasure becoming part of your lives. As I end my tenure here, I find myself reflecting, reminiscing, and looking at change that has occurred in the LOD Family community over time. I'd like to share with you some of my thoughts and observations as I consider the six years I have spent with the program.
First of all, it is striking how different the LOD Family Connections Program is from it's inception in 2003. At that time we were hosting mainly socialization events for kids whose dads died in the line of duty through the Kids Connections program. As more and more family members began to request services, we began to offer programs to parents, siblings, nieces, nephews, and wives, who had lost their loved one. The programs were rather segregated in those days, people expressing a desire to be with others who experienced the same type of loss. However, also at this time I recall many of you being so overwhelmed by the loss that you were not yet wanting to talk about it. It seemed almost taboo to talk at these events, perhaps for fear that the pain associated with the trauma of the loss was just too great. I remember a family member telling me at an earlier BBQ the CSU hosted for LOD Family Connections "Thank you for hosting these events. Even though we don't talk about it, we all know why we are here." And that was how the program seemed to go for the first few years. Family members would get together, but it seemed the loss was so deep, so profound, that to talk about your loved one or 9/11 was just too hard. So we went fishing, we had BBQs, we did things you would have done with the FDNY while your loved one was alive. So, although your loved one died, these connections to the FDNY remained alive. In time, a new connection began to develop too, your connection to each other.
Then, as time went on the community began to ask for groups and seminars to talk more about your loss and foster the connection with those who were experiencing similar feelings. Gradually, through support groups and workshops, I began to hear stories about the enormous loss and gaps your loved one left behind: an ailing mother, a leaky roof, a pile of junk in the garage, a conversation unfinished. LOD Family Connections changed shape accordingly; people began to gather in groups of siblings, parents, wives, kids, and talk about those feelings of trauma, loss and abandonment. You were able to come together and begin to talk about your pain with people who were experiencing the same thing. I remember one of you telling me "9/11 was horrible, absolutely horrible. But one good thing did come out of it, that I met all these wonderful people." Those groups felt healing. You shared with each other and realized that you were not alone in your loss but rather had developed a community and a place for your feelings: a community of connection.
As time moved forward and you worked hard at beginning to heal through groups and often individual therapy, the dynamic of the program seemed to shift again. The community seemed become more inclusive, no longer separated into services for kids, siblings, parents, wives separately, but rather under the one umbrella of Line of Duty Family Connections. And at the program events, the stories began to change too. You started to share stories of your loved one as he was when he was alive, rather than his life overshadowed by the tragedy of his death and the magnitude of your loss. I began to feel like I was getting to know who your sons, brothers, husbands, fathers really were, their personalities. You shared with me stories of heroism, but also stories of his favorite foods and songs, his quirks, his terrible math skills, even at times his quick temper. Not only did you begin to share with me who he was, but also how your family has been shaped, how your role in it was developed because of who he was.
As I reflect on leaving CSU and the Line of Duty Family Connections Program, I realize the importance of memory in experiencing a loss. I have seen your memories go as a community from a place of trauma and avoidance, to an exploration of pain and grief, to a new place of joy and nostalgia in the remembrance of your loved one. Although the pain of the loss will never be over, and will resurface as you experience other losses and anniversaries, it is touching to see the support you have developed as a community and the comfort you give each other.
I assure you my departure will not affect LOD Family Connections programming or community. Kim Ahearn will continue to be the Program Director and the services that we have provided throughout the years will remain unchanged. Additionally, as always, the support of the FDNY-CSU is available to you for any mental health treatment, referral, or advising you may need.
I wish you all the best.
Sincerely,
Bonnie Gang

NEED SOMEONE TO TALK TO?
OUR COUNSELORS ARE ON CALL AT (212) 570-1693 24 HOURS A DAY, 7 DAYS A WEEK
theCalendar
Meeting are 7 p.m. to 8:30 p.m. except where noted. For info, call the CSU at (212) 570-1693.
Family Members

Mondays:
Greenbush Presbyterian Church,
Blauvelt, NY.
For info, call (212) 570-1693

Tuesdays:
Staten Island CSU,
1688 Victory Blvd.,
Staten Island.
For info, call Mary Cole at
(718) 815-4111.

Spouses * New Day & Time

Wednesdays:
9:30 a.m.
Orange County CSU,
2279 Goshen Tpke.,
Middletown.
For info, call (845) 695-1029,

Thursdays:
Freeport Fire Dept. Headquarters,
15 Broadway, 2nd Floor,
Freeport.
For info, call Dr. Dianne Kane
(212) 570-1693

Spouses Without Children.

Mondays:
3:30 p.m. to 5:00 p.m.,
FDNY CSU
594 Broadway,
Manhattan,
For info, call Elena Coronges
(212) 570-1693.

Parents

Thursdays:
Our Lady Help of Christians Roman Catholic Church Convent,
1314 East 29th St. (by Ave. M),
Brooklyn

Thursdays:
Freeport Fire Dept. Headquarters (See above.)



Fiancees & Significant Others

Mondays:
6 p.m. to 7:30 p.m., CSU,
251 Lafayette St., 3rd Floor,
Manhattan

Wednesdays:
Fort Totten FDNY Family Crisis Center,
Bldg. 413 A,
Bayside (photo ID required).

Siblings
Wednesdays:
7:00 p.m.
Center Cottage, Suffolk Community College
Crooked Hill Road, Brentwood.
For info, call Ray brown at (631) 851-6888.

New group in Fort Totten
Every other Thursday, 7:30 p.m. to 9:00 p.m.
For info, call Lynne or Kristen (718) 352-2140.
THE LINK IS SUPPORTED BYTHE NATIONAL FALLEN FIREFIGHTERS FOUNDATION
---