Home | About SMART CPR | Sites and Researchers | Cardiac Arrest | Cardiopulmonary Resuscitation (CPR) | Defibrillators | FAQ | Learn CPR | Contact Us
SMART CPR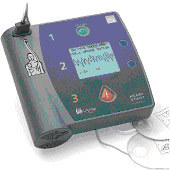 Welcome to the FDNY's SmartCPR Trial website. This site is designed to provide you – New York City's citizens, workforce, and visitors – with information about this study.
The FDNY's participation in the SmartCPR Trial is part of an on-going effort by the Department to improve survival from out-of-hospital cardiac arrest. This trial, which is designed to evaluate the ability of a new technology to direct EMS personnel toward the correct treatment for each individual patient, is a joint project involving the FDNY and the London Ambulance Service.
To learn more about the trial and its participants, sudden cardiac arrest and its treatment, or to learn how you can do your part to help someone in their most critical time of need by learning CPR, please click on the links above.