Fire Safety Response Team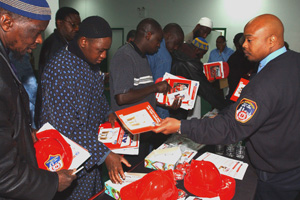 Of the many strategies the Fire Department uses to promote fire prevention, the Fire Safety Response Team is one of its most critical and personal programs.
After a large serious or fatal fire, the Fire Safety Response Team reaches out to the affected community and promotes fire safety. The team tailors the education program by using the circumstances of the fire to educate people on how to avoid a similar misfortune. People are most likely to take action immediately after a tragedy; therefore, the team channels that desire and, without blaming the victim, renews the community's commitment to fire prevention.

While fire professionals take each and every fire fatality personally, the principle of the program is to turn the tragedy of fire deaths to the triumph of a safer community.