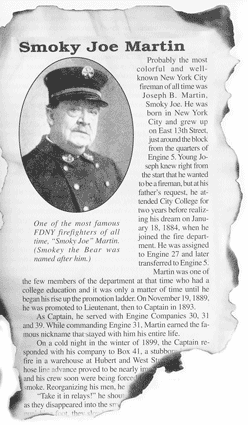 The Fire Safety Education Fund presents:

Fire Department City of New York
The Bravest
An Illustrated History 1865 to 2002
by Paul Hashagen, Author & Firefighter
Janet Kimmerly, Contributor & Editor
This comprehensive history of the FDNY revises and updates the original "Millennium Edition Book" that was released in September 2000. It tells the story of organized firefighting in New York City-- from the earliest days of New Amsterdam to the unprecedented heroic efforts at the World Trade Center on 9/11/01. Also included are action photos, profiles of famous Department members, features on apparatus and fireboats and a 15-page pictorial dedication to the men lost on 9/11.
It is a legacy of bravery and devotion to duty that continues from the present day and into the new millennium. This is the story of the firefighters of the FDNY and the people and the city they protect.
Purchase your copy now at the:
Fire Zone fdnyfirezone.com (34 West 51st Street, Manhattan)
New York City Fire Museum nycfiremuseum.org (278 Spring Street, Manhattan)
or the Mand Library (Fire Academy, Randall's Island).

Copies will be available in bookstores, such as Barnes & Noble, Borders, and Books a Million soon.
The first edition has been sold out and now is a collector's item. Make sure you don't lose out on this edition. Copies will go quickly.

---