Firefighter Gregory A. Haynes
Ladder Company 123
(Detailed to Squad Company 270)

March 5, 1999, 0215 hours, 33-5004, 108-21 174th Street, Queens

Appointed to the FDNY on November 7, 1981. Now with Squad 270, he was formerly a member of Ladder 123. Member of the Vulcan Society. Cited for bravery eight times previously. Recipient of the Kevin Kane Medal in 1997 and the Daily News Hero of the Month award for April 1999. Attended York College. Lives in Brooklyn with his wife, Joanne, and their daughters, Rashida, 12, and Jemila.
In the early hours of the morning, the members of Squad 270 were in the kitchen of their Richmond Hill firehouse discussing the recent all-hands fire to which they had responded. As FF Gregory Haynes drank a cup of coffee, he mused that the company had missed an earlier second-alarm fire and hoped that before the night was over, he would see some action. His thoughts were interrupted as the Department radio crackled a 10-75 signal for a working fire in nearby South Jamaica.
Without waiting for the tone alarm to sound, the Squad, under the command of Captain Thomas J. Richardson, hurried to their rig and prepared to respond. As the apparatus doors opened, they were hit by a blast of frigid air. Whatever fire duty they would be performing, it would be done in an extremely punishing and cold environment.
While en route, the apparatus radio announced that the fire, which had started in the basement of a two-story, wooden private house, had extended to the second floor. Additionally, there was a report that children were trapped on the second floor, one possibly wheelchair-bound. When they arrived, Captain Richardson divided his company into several teams. FF Haynes was assigned the task of reaching the trapped occupants from the rear.
FF Haynes placed a portable ladder on the rear porch and scrambled upward. As he looked through the window, he could see the glow of fire. At the same time, flames started licking through and around the base of the wooden porch. Hopefully, the firefighter thought, he would be able to get inside to do his search before conditions worsened. As he was preparing to enter the window, he heard the voices of two firefighters.
FF Haynes could detect urgency in their voices as they attempted to orient themselves in the thick, acrid smoke that had engulfed the entire room. He adjusted the face piece of his mask to more clearly yell to the two men so they could locate the window and escape the brutal conditions. As the first firefighter came through the window, FF Haynes reached in and grabbed the harness of the second man. He was able to pull him to safety just as the room flashed over, fire shot out the window and the porch began burning in earnest.
With ladder entry to the second floor no longer possible, FF Haynes would not be deterred. He made his way to the rear door, dropped to his knees, entered the hellish environment and commenced a search. As he crawled along on his belly, he realized that conditions rapidly were deteriorating because the advancing engine company operating a hose-line opposite his position was pushing the fire toward him.
Although heavy fire was present, FF Haynes regrouped and started searching in another direction. As he crawled in the worsening heat, the floor beneath him collapsed. Fortunately, the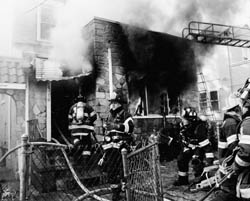 water and utility pipes along the basement ceiling beneath him held up the burnt support beams. Fire now was burning through the floor and lapping up the walls of the wooden structure. FF Haynes pushed on. Crawling along the floor, he simultaneously moved debris out of his path and searched for victims.
Employing all his firefighting skills, FF Haynes finally located seven-year-old Nyema Davis, just as the red-orange flames started rolling along the ceiling directly above him. He quickly dragged the little girl out of harm's way to the back door and handed her to FF Andy Fowler from Ladder 133. The child was transported to the Cornell Burn Center where she was treated for severe smoke inhalation and burns. Fortunately, the child was well enough to be discharged after a two-week stay in the hospital.
Captain Richardson stated in his report, "the courage, initiative, perseverance and determination displayed...without question resulted in saving this little girl's life..." Because of the brave manner in which he conducted himself in upholding the highest traditions of the FDNY, as well as the entire fire service, firefighter Gregory A. Haynes is honored today.--BDG