Firefighter Joseph M. Higgins
Lader Company 111
November 9, 1999, 1457 hours, Box 75-957, 95 Herkimer Street, Brooklyn

Appointed to the FDNY on August 3, 1985. Originally assigned to Engine 217. Works as a drill instructor at the Bureau of Training. Member of the Emerald Society. Cited for bravery three times previously. Brothers, Tim and Bob, are members of R-2 and L-103, respectively. Brother, Mike, is retired from L-108. Father, Ed, is retired from E-227. Lives in Freeport, Long Island, with his daughter, Jackie, 16, and son, Joey, Jr., 12.
It had been a busy "24" at the "Nut House" on Hancock Street when the teleprinter came to life once again. Engine Company 214 and Ladder Company 111 turned out for a fire reported in an isolated, four-story, private dwelling with a peaked roof at 95 Herkimer Street. While responding, the dispatcher informed the units of "people trapped and possible jumpers."
Arriving first-due, Ladder 111 was confronted with fire--possibly fueled by "Molotov cocktails"--completely blocking the front entrance and blowing out the second-floor front windows. Five occupants already had jumped from the upper floors of the building, sustaining numerous injuries.
Lieutenant Steve Luisi, Ladder 111, with his forcible entry team of FFs Carl Bedegian and Joe Honan, went to the rear to gain entry. The officer ordered his roof man, FF Joe Higgins, to use the Tower Ladder bucket to attempt entry above the fire in the front. As FF Higgins was rising in the bucket, Lieutenant Luisi radioed him of a panicking civilian trapped at a rear fourth-floor window with no rear fire escape.
FF Higgins immediately proceeded to a fourth-floor window. Upon entering the room, he was driven to the floor by the extreme heat encountered. Fire was &#147:blowtorching" up the open interior stairway, creating a very dangerous situation for both the victim and FF Higgins. Crawling and groping blindly on his belly, FF Higgins reached the stairway, but was driven back by the volatile fire conditions.
With no water yet on the fire to extinguish the inferno and Ladder 111 the only truck initially at the scene,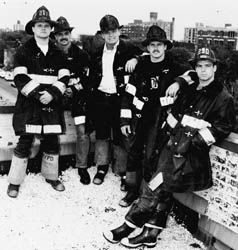 FF Higgins knew the victim's time was running out and that the firefighter was probably his only chance of survival. Disregarding the flames and danger, FF Higgins forced himself down the hallway, past the raging fire, toward the rear.
The first room he found and entered at the end of the hall was a bathroom. After a quick search, FF Higgins re-entered the hall and found a bedroom to his right. Closing the door behind him, he began a feverish search and found the victim, James McKenny, age 40, lying unconscious near the window. FF Higgins knew his only avenue of escape was back to the Tower Ladder.
The firefighter began dragging Mr. McKenny out of the room, but was unable to fully reopen the bedroom door, which had become blocked during his search. Struggling to clear the blocked door, FF Higgins was joined by Ladder 111's outside vent man, FF Joseph Valente, who had followed FF Higgins' route from the front, and Rescue 2's FF Lincoln Quappe, who was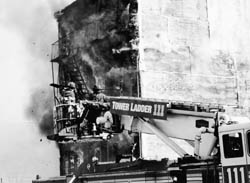 able to hoist himself into the room from a fully extended portable ladder.
Engine Company 235, under Lieutenant John Cullen's supervision, wisely had chosen a 21/2-inch hose-line to attack the fire and was making progress against the blaze on the first and second floors. It did little to alleviate the conditions on the top floor, however, as a tremendous amount of steam now was rising up the stairs, too. The three firefighters shielded and dragged the victim to the front and placed him into the bucket.
Ladder 111's chauffeur, FF Billy Reid, took the victim to the street where EMS Paramedics had to "trache" him to create an airway to resuscitate him. He was hospitalized for three days, but recovered from his ordeal. If not for FF Higgins' relentless and aggressive actions in effecting this rescue, the victim surely would have suffered more severe and possibly fatal injuries. We honor FF Higgins today for his heroism.--CP