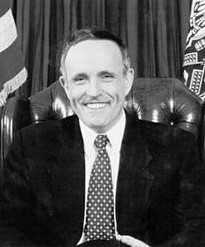 Rudolph W. Giuliani
Mayor
With exceptional skill and professionalism, the nearly 3000 Paramedics and Emergency Medical Technicians who make up the Emergency Medical Service Command courageously serve their fellow New Yorkers and millions of visitors every year.
EMS Command continues to seek out and employ the most advanced technology available to provide the highest level of emergency care. The addition of state-of-the-art defibrillators, LifePak 12, and the introduction of the asthma drug, Albuterol--now carried on all BLS ambulances--have enhanced the sophistication and readiness of EMS. With the opening of nine new EMS stations and a constant drive to reduce response times even further, EMS remains committed to excellence and is well-prepared to meet the challenges of the next millennium.
The City of New York is proud of the fine work that EMS has done. We are equally proud of the courageous men and women who have set an example for their peers and inspired the Command to reach even higher levels of performance. Those members being honored today--indeed, all EMS personnel--have earned our deepest gratitude.