FDNY 1997/98: EMS Program & Service Highlights
Program Initiatives
New Stations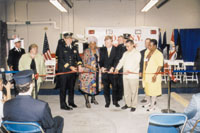 Since the merger, nine new EMS stations have been opened--Elmhurst Hospital, Mount Sinai Queens Hospital, Flushing and Fort Totten stations in Queens; Highbridge, Williamsbridge and Melrose stations in the Bronx; and the Brownsville and Woodhull stations in Brooklyn. While reduction in response time was the thrust behind increasing the number of EMS stations, there were other important factors:
" Quality of life for EMS personnel
" Clean, functional quarters with adequate locker space, showers and facilities for meals
" Time saved when ambulances must be re-stocked, refueled or deconned It becomes clear that the new stations are a win for both the Department and the public.
Program Initiatives
25TH PARAMEDIC ANNIVERSARY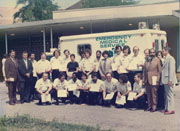 The very first NYC EMS Paramedic class graduated in July of 1974. The class had 19 graduates who completed a grueling three-month program. The starting salary for a paramedic at that time was $10,400 per year. The equipment was minimal, but cumbersome--the cardiac monitor and defibrillator alone weighed 45 lbs. Many of those graduates still are involved in health care today. Four remain within the FDNY EMS Command, including Deputy Chief MacNeil Cross, Captain Michael Garufi, Paramedic Richard McAllen and Director of Programming Ronald Maffei in the Bureau of Technology Development and Systems. This year, the Department celebrates the 25th anniversary of paramedics in New York City and recognizes the historical importance of this event. Since 1974, the paramedic program has evolved into a NYS Department of Health-approved curriculum consisting of more than 1200 hours of training. Other improvements have resulted in a series of protocols, developed and endorsed by the Regional Emergency Medical Services Council (REMAC) of New York City, which allow paramedics to provide life-saving, pre-hospital care to adult and pediatric patients suffering from a multitude of injuries and ailments. The equipment has become more portable. Today's LifePak 12 (cardiac monitor and defibrillator) weighs 18 lbs. and is capable of performing 12 lead EKGs and heart pacing. The salaries have improved, too, with an entry-level paramedic making $32,221 per year. Medicine is a practice that constantly is evolving. The FDNY takes great pride in knowing that New York City's Paramedic Class #1 served as pioneers in the pre-hospital care frontier and played a significant role in the development of advanced life support care as we know it today.