***MEDIA ADVISORY***
FDNY UNVEILS NEW CITYWIDE POSTERS CELEBRATING
EMS WEEK 2012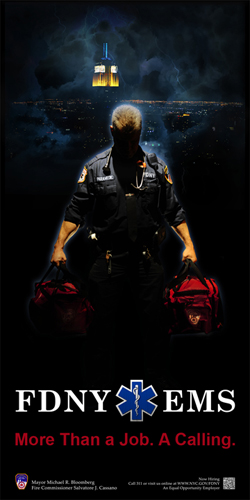 Fire Commissioner Salvatore J. Cassano will join members of the FDNY Emergency Medical Service on Wednesday, May 16 at 11 a.m. at EMS Station 32, 347 Bond Street, in Brooklyn to officially unveil this year's new citywide posters celebrating EMS Week 2012, which begins across the country on Sunday, May 20.
The theme of this year's FDNY-developed poster is "More Than a Job. A Calling." The poster features FDNY Rescue Medic Don Faeth, a 25-year veteran of EMS, standing ready to respond as a larger-than-life figure. Rescue Medic Faeth is representing all members of FDNY EMS, who responded to over 1.2 million medical emergencies in 2011. In the background, the skyline of New York City can be seen with the Empire State Building illuminated in yellow, white and blue; as it will be on May 21, in celebration of National EMS Week.
The annual public service announcements - which are designed to raise awareness about the life-saving skills of FDNY EMS members - will be displayed in approximately 350 telephone kiosks donated by Van Wagner.
| | |
| --- | --- |
| Who: | Fire Commissioner Salvatore J. Cassano, Chief of Department Edward Kilduff, Chief of EMS Abdo Nahmod |
| Where: | Station 32 - 347 Bond Street, Brooklyn |
| When: | Wednesday, May 16 at 11 a.m. |
***Photo Op***
Press Contact: Francis X. Gribbon & Frank Dwyer, (FDNY) (718) 999-2056