***MEDIA ADVISORY***
FDNY RELEASES OFFICIAL COMMEMORATIVE BOOK: FDNY 2001-2011: A DECADE OF REMEMBRANCE AND RESILIENCE
Fire Commissioner Salvatore J. Cassano, along with active and retired members of the Department, and the FDNY Foundation, will release the official FDNY commemorative book, FDNY 2001-2011: A Decade of Remembrance and Resilience at the FDNY Fire Museum at 278 Spring Street on Wednesday, August 17th at 5:30 p.m. Many FDNY members whose photos and quotes are in the book will be available at the event.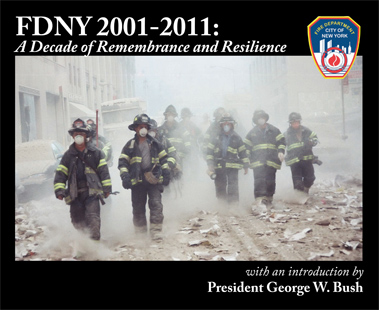 Ten years after the attacks that changed America, the New York City Fire Department has published its only official first-hand account of what happened at the World Trade Center on September 11th 2001, and what it took to rebuild in the weeks, months and years that followed.
With a foreword by President George W. Bush, in which he lays bare his thoughts and emotions on September 11th, the large format 12" x 10" pictorial-style book features dozens of unique and intimate photos culled from the Department's archives. The stories collected by the Department include wrenching personal interviews with FDNY members, some of which were conducted only weeks after the attacks. The book is an inspiring testament to the spirit of resilience that kept the Department – and the City – going in the wake of the attack. It chronicles the renewed strength that allowed the Department and the Nation to rebuild, forever changed.
The book also chronicles major FDNY operations over the past decade, including the Department's response to Hurricane Katrina, the earthquake in Haiti, and the Miracle on the Hudson plane landing.
The hardbound book is available through the FDNY Foundation at www.fdnybook.com. Proceeds from the book benefit the FDNY Foundation which funds fire safety education, as well as equipment, training and education needs for FDNY members. For more information on the FDNY Foundation, visit www.fdnyfoundation.org
| | |
| --- | --- |
| WHO: | Fire Commissioner Salvatore J. Cassano; Chief of Department Edward Kilduff, many active and retired FDNY members |
| WHERE: | FDNY Fire Museum 278 Spring Street -Soho, New York City |
| WHEN: | Wednesday, August 17 – 5:30 p.m. |
*** Photo Op***
For News and Media firms wanting to REQUEST A SAMPLE COPY FOR BOOK REVIEW OR FEATURE STORY, CONTACT:
M.T. Publishing Company, Inc. 1-888-263-4702
Press Contact: Francis X. Gribbon & Frank Dwyer, (FDNY)
(718) 999-2056