***PRESS RELEASE***
FIRE MARSHALS ARREST 2 MEN FOR SETTING FIRE IN QUEENS THAT RESULTED IN 4 INJURIES
FDNY Fire Marshals have arrested Imran Ali, 23, and Devindra Ramnaryan, 21, of Queens for setting a fire at 123-11 Liberty Avenue in Queens on July 23, 2011. The fire resulted in serious injuries to two seniors who lived in the building, as well as two firefighters who responded to the incident.
"Anyone who intentionally sets a fire shows a depraved indifference to human life," said Fire Commissioner Salvatore J. Cassano. "I commend our Fire Marshals and our entire Bureau of Fire Investigation for tracking down and apprehending these individuals who put the lives of so many civilians and firefighters in jeopardy."
The fire was reported at 2:34 a.m. and the first units arrived on scene in just over two minutes. In all, twelve units comprised of sixty firefighters responded to the all-hands fire, which took more than thirty minutes to bring under control. The fire building is two stories, with a commercial occupancy on the first floor, and two apartments on the second floor.
Ali and Ramnaryan, who were out at local clubs that evening, believed that rocks had been thrown at them from a nearby rooftop. In an effort to retaliate to the alleged rock throwing, they illegally entered 123-11 Liberty Avenue, went to the second floor landing, and intentionally set a fire. The fire extended into the two second floor apartments, seriously injuring a male, 75 and a female, 70.
After a thorough investigation, FDNY Fire Marshals arrested Ali on July 27. Ramnaryan fled the country shortly after the fire, but was arrested shortly after his return on August 1 following surveillance of the neighborhood by Fire Marshals. Ali and Ramnaryan face multiple charges; including arson, attempted murder, assault, burglary, criminal mischief and reckless endangerment.
*** Photos of Imran Ali and Devindra Ramnaryan attached ***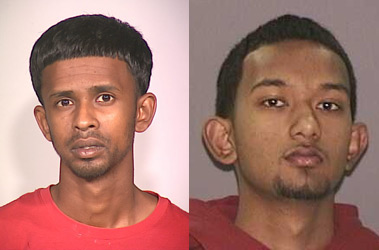 Press Contact: Francis X. Gribbon & Frank Dwyer, (FDNY)
(718) 999-2056