***PRESS RELEASE***
BRONX MAN ARRESTED FOR ARSON IN MARCH FIRE
THAT DESTROYED A ROW OF BRONX STORES

William Crean

Fire Marshals from the FDNY Bureau of Fire Investigation (BFI) and federal agents from the Bureau of Alcohol, Tobacco and Firearms (ATF) yesterday arrested 40-year-old William Crean of the Bronx for starting a fire on March 22, 2009 that resulted in an estimated $2 million in property damage. Crean (DOB 11/15/68) is charged with 2nd degree arson and reckless endangerment. These charges are punishable by up to 25 years in prison. The prosecution of this case will be handled by the Office of Bronx District Attorney Robert T. Johnson.
On Sunday, March 22 at 6:07 a.m. a fire was reported at 122 Westchester Square in the Bronx. The first FDNY unit on scene was Engine 61, which arrived in just over 3 minutes. The fire quickly escalated to a third alarm and spread throughout a row of stores from 122 to 129 Westchester Square. In all, the fire required 33 units, 140 firefighters and nearly three hours to bring under control. Three firefighters were taken to Jacobi Hospital for non-life threatening injuries.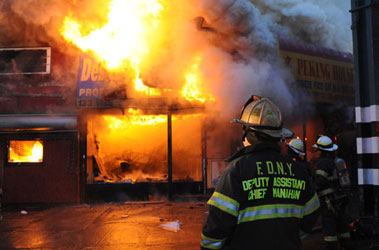 Photo by Firefighter Daniel P. Alfonso
BFI determined the fire started inside 21 Latin Lounge at 122 Westchester Square, a business that was undergoing renovations at the time and not yet open to the public. The fire extended to 5 adjoining businesses; National Restaurant, Rose Nail Salon, Peking House, Osvaldo Barber Shop, and On the Square Flower Shop. The damage from the fire resulted in an overall structural collapse of 21 Latin Lounge and partial collapses of several of the other affected stores. The investigation of the fire and its motives is ongoing.
"This investigation demonstrates the outstanding work of the FDNY Bureau of Fire Investigation," said Fire Commissioner Nicholas Scoppetta. "We are also proud to have an excellent working relationship with the Bureau of Alcohol, Tobacco and Firearms as we work toward a common goal: putting arsonists behind bars."
"I would like to commend the ATF agents and the New York City Fire Marshals who aggressively pursued this case," said Ronald Turk, Special Agent in Charge, ATF New York Field Division. "This is the second major arson arrest this month by this task force. Through this violent act of arson, the community had to suffer the loss of several businesses, further damaging the economy, while also putting firefighters' lives at risk. This is totally unacceptable and the ATF remains committed to investigating this heinous crime."

Press Contact: Francis X. Gribbon & Frank Dwyer, (FDNY) (718) 999-2056