FIRE COMMISSIONER SCOPPETTA AND FDNY FOUNDATION JOIN ISLAMIC CULTURAL CENTER LEADERS TO KICKOFF OPERATION FRESH BATTERY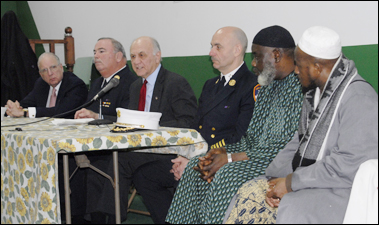 Fire Commissioner Nicholas Scoppetta, along with members of the FDNY Fire Safety Education Unit and the FDNY Foundation, met today with Imam Abdullah Bajaha and approximately 30 community leaders from across the City at the Islamic Cultural Center in the Bronx to kickoff the FDNY's Operation Fresh Battery - the largest single giveaway of smoke alarm batteries in New York City history.
The safety campaign was developed in the wake of the Bronx fire on March 7 that killed nine children and one adult. Starting this week, firefighters have begun distributing 145,000 free 9-volt batteries to residents at multiple locations throughout the City. The program is a collaborative effort by the FDNY and the FDNY Foundation, a non-profit organization that supports Department initiatives including education, equipment and training.
"A working smoke alarm can mean the difference between life and death when a fire breaks out in your home, and that message cannot be repeated enough," Commissioner Scoppetta said. "We appreciate the overwhelming help and support of this community and others around the City and hope that together we can reach our common goal of preventing tragedies like the fire on Woodycrest Avenue from ever happening again."
At the E. 166th St. center, Commissioner Scoppetta, joined by Chief of Department Salvatore J. Cassano, Chief of Operations Patrick McNally and FDNY Foundation Chairman Stephen L. Ruzow, discussed fire prevention tips with community leaders and encouraged residents to call 911 in the event of an emergency.
The Fire Safety Education Unit distributed batteries, which also can be used for carbon monoxide detectors, and delivered fire safety presentations to parents and children throughout the day. Twice a year before Daylight Savings Time, the Fire Safety Education Unit distributes 20,000 free batteries at major transportation hubs across the City to encourage New Yorkers to change batteries in their smoke alarms and carbon monoxide detectors.
According to the National Fire Protection Association, approximately 70 percent of all deadly residential fires occur in homes without working smoke alarms.
Press Contact: Francis X. Gribbon & Eileen Ramos, (FDNY) (718) 999-2056