MAYOR MICHAEL R. BLOOMBERG AND FIRE COMMISSIONER NICHOLAS SCOPPETTA ANNOUNCE THE DEATH OF FIREFIGHTER MICHAEL C. REILLY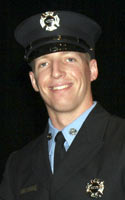 Mayor Michael R. Bloomberg and Fire Commissioner Nicholas Scoppetta announced today the death of Firefighter Michael C. Reilly of Engine Company 75 in the Bronx. Reilly, 25, a probationary firefighter who just graduated the fire academy on July 6, was fatally injured this afternoon while battling a third-alarm fire in the South Bronx. He was pronounced dead a short time later at Bronx Lebanon Hospital.

Reilly was appointed to the FDNY on April 11, 2006, and spent 13 weeks in the fire academy before being assigned to Engine Company 75. He joined the United States Marine Corps in 2000 and was a Sergeant in the Marine Reserves.

Four other firefighters were seriously hurt in the fire, including Lt. Howard J. Carpluk Jr., 43, of Engine Company 42, who suffered the most critical injuries. The 20-year veteran was taken to Bronx Lebanon Hospital before being transferred to the cardiac support center at Montefiore Medical Center. He is listed in extremely critical condition at this time.

The three other injured firefighters are Battalion Chief Thomas W. Auer, 47, of Battalion 17, a 23-year veteran; Lieutenant John P. Grasso, 45, of Engine 92, a 20-year veteran; and Wayne J. Walters, 30, of Engine 75, a 4-year veteran. They are listed in serious but stable condition at Jacobi Medical Center at this time.

Firefighters responded to a call for a fire at 12:29 p.m. at 1575 Walton Ave., a one-story 99-cent store near the Grand Concourse. The blaze quickly went to a second alarm at 12:38 p.m. and then a third alarm at 1:07 p.m. FDNY units entered the building in a search for fire and victims when a collapse occurred. Maydays were transmitted and firefighters rescued five trapped members.

A total of 23 firefighters were injured in the fire. The blaze was brought under control at 4:43 p.m. Fire marshals continue to investigate the cause of the fire. Approximately 33 units and 138 firefighters participated in the extinguishing of the fire and the rescue effort.

A resident of Sleepy Hollow, Firefighter Reilly is survived by his mother Monica, father Michael, brother Kevin and sister Erin.
Firefighter Reilly is the 1,133rd member of the New York City Fire Department to make the Supreme Sacrifice in the Department's 142-year history.
Press Contact: Francis X. Gribbon / Desta White, FDNY (718) 999-2056