PARAMEDICS, EMT's AND FIREFIGHTERS REUNITE WITH
HEART ATTACK VICTIMS WHOSE LIVES THEY SAVED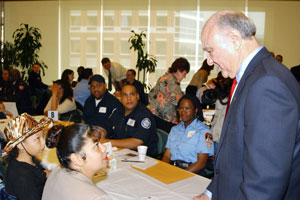 The New York City Fire Department held it's 9th Annual "Second Chance Brunch" on Tuesday, May 20, 2003 at the Chase Metro-Tech Cafe in downtown Brooklyn. The event reunited victims of cardiac arrest with the FDNY Paramedics, Emergency Medical Technicians and Firefighters who gave them a "second chance" at life.
Recent studies have shown that sudden cardiac arrest continues to be a major unresolved health problem throughout the world. Each year it strikes over 350,000 people in the United States alone. That's nearly 1,000 every day. Sadly many of these victims die before reaching the hospital, usually within two hours of the onset symptoms. Research has shown that early defibrillation coupled with CPR within the first few minutes of suffering sudden cardiac arrest, followed by advanced care, greatly increases survival rates.
"I am confident that for many if not all of the survivors here today, the experience of a cardiac arrest is a first, a once in a lifetime event you surely don't want to repeat," said Commissioner Scoppetta." "But for the EMT's, Paramedics and First Responders here today I know these cardiac arrests will not be your last. By virtue of your dedication and your commitment to quality patient care, as proven by the stories I have heard today, you will continue to make the difference between life and death each and everyday."
Attending today's event were several survivors of cardiac or respiratory arrest including Mr. Joseph Calvanese of Staten Island. Mr. Calvanese collapsed and suffered cardiac arrest while attending a Fire Academy graduation ceremony for his grandson Firefighter John Carroll. Within seconds, several members of the Department, including a Deputy Chief and an EMS Academy Instructor were at his side administering CPR. Minutes later, members of Engine Co. 255 along with Maimonides Hospital Paramedics arrived on the scene to assist with patient care and transport. Mr. Calvanese was discharged from the hospital a short time later and was here today to celebrate his "second chance."
The 9th Annual "Second Chance Brunch" is made possible through the generosity and support of Matthew Pintchik and the Pintchik Family and JP Morgan Chase.

Contact: Francis X. Gribbon/David Billig (FDNY) (718) 999-2056
No. 23-03