NEW YORK CITY FIRE DEPARTMENT AND
VAN WAGNER COMMUNICATIONS, LLC
UNVEIL EMERGENCY MEDICAL SERVICES WEEK POSTER
Commissioner Scoppetta presents award to C.E.O. Richard M. Schaps
Fire Commissioner Nicholas Scoppetta today honored Richard M. Schaps, President and C.E.O. of Van Wagner Communications LLC for his generosity and his support of the New York City Fire Department's Emergency Medical Service during National EMS Week. At the ceremony, this year's FDNY EMS Week poster was unveiled at one of the Van Wagner phone kiosks donated to the FDNY for this event.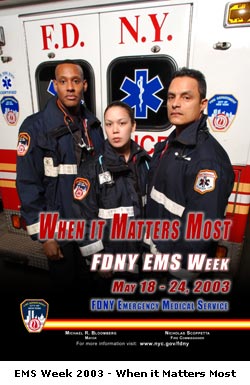 "We are grateful to Van Wagner Communications and to Mr. Richard Schaps for providing telephone kiosk and billboard space for this year's EMS Week poster. The dedication and commitment of our EMTs, Paramedics and First Responders is highlighted in this year's EMS Week theme, When It Matters Most, celebrating the crucial role these individuals continue to play in the delivery of pre-hospital emergency medical care," said Commissioner Scoppetta. "That theme is illustrated this year in this dramatic poster which will be seen on over 250 kiosks and billboards around the city."
"Van Wagner is proud to be a part of National EMS Week in New York City. We hope that this campaign will help the Fire Department honor the brave men and women who work for the EMS Bureau, and salute them for their hard work and their commitment to excellence," said Richard Schaps, C.E.O. of Van Wagner Communications.

National Emergency Medical Services (EMS) Week, which will be held May 18-24, is designed to bring public attention to the life-saving work that more than 750,000 men and women provide to millions of Americans each year. It is during this week that we honor the men and woman who work for the New York City Fire Department's EMS Bureau, and recognize them for their efforts and dedication.
About Van Wagner Communications:
Van Wagner has vast experience with many out-of-home formats, including spectacular signage, bulletins, transit advertising, bus shelters, kiosk advertising and specialized display marketing programs. Its advertising placements and signage are viewed daily by millions of people in New York's Times Square, London's Piccadilly Circus, on Sunset Boulevard in Beverly Hills, and in numerous other locations in the U.S. and the UK. It also has the country's largest sports signage and advertising programs with its sister company, Dorna USA, which markets signage in the NBA, Major League Baseball and in NCAA arenas and stadiums.
Contact: Francis X. Gribbon/David Billig (FDNY) (718) 999-2056
May 12, 2003, 17-03