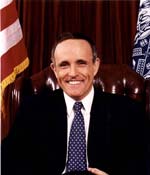 In 1994 during the first year of my Administration, I was honored to host my first FDNY Medal Day at City Hall. Over the course of my term as Mayor of the City of New York, my highest priority has been preserving public health and safety. I have been proud to have the New York City Fire Department--the world's finest Fire Department--as a constant partner in this effort.
For decades, members of the New York City Fire Department have been called "New York City's Bravest," an honor that is richly deserved. Today, we honor the bravest of the Bravest--firefighters who have performed acts of courage and heroism well above and way beyond the call of duty. New York City firefighters help people who need help the most--people who are trapped, scared, crippled and sometimes not even conscious. It is a privilege to acknowledge the heroic actions of such dedicated public servants as yourselves who work tirelessly on behalf of the eight million citizens of New York City. Countless times I have been called to grave emergencies throughout the five boroughs and, each time, I personally have witnessed the dedication and bravery of New York City firefighters. Each and every time, I have seen the caring, compassion and concern of FDNY's men and women who give of themselves--often at risk to their own lives--to help others.
This Medal Day, I congratulate each winner for setting examples of heroism, sacrifice and courage that shine as a beacon for all New Yorkers to admire and emulate. Each of you justly deserves this award. Similarly, each of you deserves the heartfelt gratitude of all New Yorkers, including those people who actually were saved by your actions during the past year and those who rest assured, knowing that you always will be there to help in a heartbeat if the need arises.
View this year's Medal Recipients
Thomas Von Essen
Fire Commissioner

Today, for the 131st time in our history, we come together to honor, congratulate and thank our fellow firefighters for their acts of courage and selfless dedication. We honor them because their actions were above and beyond even the courage and commitment that we have come to expect as the hallmark of a New York City Firefighter.
We congratulate them because their acts have added another shining chapter to the proud and noble history of this Department. We thank them because they have made each of us who has ever worn the uniform of a New York City firefighter realize--once again--how fortunate and blessed we are to be a member of this great Department and to be called as they are, Firefighters.
View this year's Medal Recipients

Peter J. Ganci
Chief of Department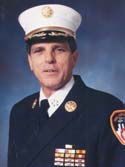 Medal Day belongs to all of us in the Fire Department. Those who, in some way, went above and beyond are honored today. And, the rest of us are privileged to congratulate them and share in their glory.
While these 50 or so Medal winners are being singled out today, many others deserve credit for making it possible for them to garner the individual accolades.
The greatness of this Department is based on the individual effort of each of its members acting as one.
The point is, the fire service is dependent on teamwork. And those being applauded today are the "stars" of the team. Congratulations!
View this year's Medal Recipients