Nicholas Scoppetta
31st Fire Commissioner City Of New York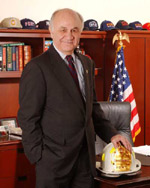 Nicholas Scoppetta, Commissioner for the Administration for Children's Services in the Giuliani administration, was appointed as New York City's 31st Fire Commissioner by Mayor Michael R. Bloomberg on December 30, 2001. Commissioner Scoppetta heads a Department with more than 16,000 Fire, EMS and civilian members. His extensive experience in government and management spans more than four decades.
The Commissioner brings a wealth of management and leadership experience to the Department. His experience in a number of government posts has prepared him to lead the world's busiest fire suppression and emergency medical services agency. Commissioner Scoppetta's leadership abilities will play a vital role in strengthening and rebuilding the Department which lost 343 members on September 11th, 2001.

Fire Commissioner Scoppetta is a former Deputy Mayor and Commissioner of Investigation for the City of New York. He received his Juris Doctorate from Brooklyn Law School in 1962. While attending law school at night, he worked by day as an investigator for the Society for the Prevention of Cruelty to Children. He is a past President and former Chairman of the Board of Trustees of the Children's Aid Society, a not-for-profit social service agency that annually serves more than 200,000 needy children in New York City.
Commissioner Scoppetta was born on the Lower East Side of Manhattan. When he was five years old he was placed in a children's shelter and lived in various foster care institutions until he turned 12. He attended public schools in Manhattan. After serving two years in the Army, he attended Bradley University on the G.I. Bill and graduated in 1958 with a degree in Engineering. Upon graduation from law school, he was appointed an Assistant District Attorney in New York County by District Attorney Frank S. Hogan. He has also served as Associate Counsel to the Knapp Commission, an Assistant United States Attorney for the Southern District of New York, and as the Deputy Independent Counsel in the investigation and prosecution of a former Special Assistant to the President of the United States.
Fire Commissioner Scoppetta has served on numerous boards of not-for-profit institutions and is a past member of the Executive Committee of the Association of the Bar of the City of New York. From February 1994 to January 1996, he was Chairman of the five-member Commission to Combat Police Corruption, which was created by former Mayor Giuliani to monitor the New York City Police Department's anti-corruption efforts. Mr. Scoppetta lives in New York City with his wife. They have two grown children.