Chief of Department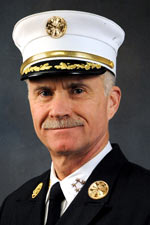 The Chief of Department is the operational leader at FDNY. The current, and 34th Chief of Department is Chief Edward S. Kilduff. Chief Kilduff's career at FDNY began in 1977 with his appointment to Firefighter. Before becoming Chief of Department and the highest ranking uniformed member, he rose through the ranks, including serving as Brooklyn Borough Commander. During his fire service career, he was cited for bravery five times. In the aftermath of 9/11, he helped lead rescue and recovery efforts as the night Tour Commander at the World Trade Center site. He also traveled to New Orleans to manage response efforts post-Hurricane Katrina 2005.
Post-9/11, Chief Kilduff has participated in writing the first two FDNY Strategic Plans, which served as roadmaps for the Department's rebuilding efforts. Chief Kilduff is responsible for 15,000 uniformed members of the Department, including the Fire and Emergency Medical Services.
Chief Kilduff holds a Bachelor of Arts degree Political Science from Marist College. Chief Kilduff is a native New Yorker and he resides in Queens with his wife, Kathy.