California-based technology firm donates new truck to FDNY for Squad 18
February 14, 2002 - Employees of Ariba, Inc., a California-based technology firm, raised more than $350,000 to purchase a new Seagrave Pumper Truck for the New York City Fire Department. The Pumper Truck, presented to Special Operations Command Squad 18, replaces the rig that was destroyed on September 11th, 2001.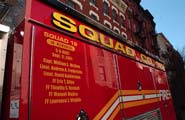 Squad 18 lost seven members during the attacks on the World Trade Center. The new apparatus prominently displays the names of the seven members who bravely gave their lives rescuing thousands of people for the Twin Towers.
Fire Commissioner Nicholas Scoppetta, Chief of Department Daniel Nigro, Ariba CEO Robert Calderoni, along with Ariba employees and family members, joined members of Squad 18 in dedicating the new apparatus.
| Click here for a close-up view of the new apparatus. |
Photographs ©2002 FDNY Photo Unit - All Rights Reserved