Captain John Russo speaks about Captain Lester A. Roberts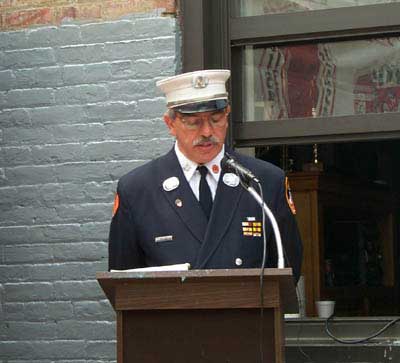 Captain Joseph Russo, commanding officer of Engine Company 254 (Watchdawgs) spoke eloquently about Captain Lester A. Roberts, Here is his speech and other information provided by Captain Russo.
Greetings, and welcome to the quarters of Engine 254 and Ladder 153 of the Brooklyn formerly known as Gravesend.
We gather here this morning to celebrate a mass for all the deceased members of Ladder 153 and Engine Company 254 and especially to honor the memory of a fallen hero. Captain Lester Augustus Roberts, a forty-year veteran of the FDNY, served as the Company Commander of Engine 254 from Jan. 1, 1913, until his death on January 9, 1924.
His granddaughter, Marie Roberts, brought this fact to our attention one afternoon several months ago. Since our records in quarters do not go back that far, FF Jim Del Bionic made a call to the department, and remarkably, a personnel record was still on file. A reading of that file would tell you that he was appointed to the FDNY on April 1, 1885, at age 23. His former occupation list sailor. During his four decades with the Fire Department * was promoted three times; to Lieutenant Dec. 9 1895 to Captain on December 10, 1896, and on April 13, 1898 he was promoted to Acting Battalion Chief. .....Under the heading "Roll of merit", there are three dates;
June 22, 1885, Feb. 22 1992 and May 14,1894.
Under the remarks column is a recording of the announcement of his death that was printed on Department Order #6 of 1924.
If that was all we had to go on, we could conclude that he had a very full and active career. Fortunately for us, Captain Robert's biography was included in a historical book written about the Boroughs of Brooklyn and Queens. To quote from page 247 of that colorful text,
"As a firefighter he was second to none in efficiency. As a Commanding Officer he was excelled by none in the capacity for handling men for the intrepid dash and daring of the most brilliant type. Even in the face of seemingly sure death when emergency and catastrophe called for courage of the highest quality"
I thank you all for joining us to remember our fallen brothers and the dedication of this plaque in honor of Captain Father John, for his blessings, Julius Pontercorvo, the Pipers. To all our invited guest and members of the dais for taking the time to be with us on this special day.
A special thank you to the members of " Ave. U" for their work to make this day a success, and to Lenni Kohler and her staff in solving all the logistical problems.
To Commissioner Von Essen for supporting our efforts to give proper recognition to a fallen hero.
In closing I would like to thank Marie Roberts for re connecting us with an important part of our past. Generations of firefighters will learn the meaning of dedication to duty from the presents of these memorial plaques