FDNY Members Collect Money, Items for Victims of 136th Street Fire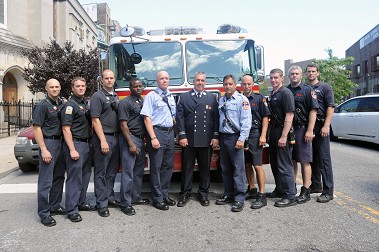 Firefighters from Engine 80/Ladder 23 (L to R) FF Daniel Bozek, FF Matthew Chase, FF Craig Roloson, FF Kamar Malone, Lt. Edward Reardon, Capt. Matthew Hagan, Lt. Joseph Canale, FF Mark Johnson, FF Brian Murphy, FF Thomas Long, and FF Brian Johnson.
In the days following a 4-alarm fire in Manhattan on Aug. 18, FDNY firefighters from Engine 80 and Ladder 23 said they were saddened to hear that the 15-year-old fire victim's family could not afford to pay her funeral expenses.
So each firefighter made a donation and they presented a $500 check to the girl's overwhelmed family on Aug. 28 at Councilman Mark Levine's office.
"We're firefighters, it's in our nature to help people," Capt. Matt Hagan from Engine 80 said. "It's unfortunate that a 15-year-old girl lost her life just as it was getting started."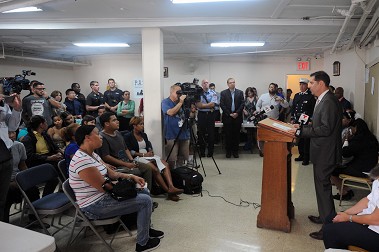 Firefighters presented their donation to the family as part of a ceremony at Councilman Mark Levine's office.
Capt. Hagan said they also coordinated with other fire companies in the area to gather food and clothing for other victims of this fire, who lost all their belongings.
He said he hopes this will encourage other New Yorkers to help their neighbors after fires and other emergencies.
"It's our job to help people whether in an official capacity or not," Capt. Hagan said. "It's the least we could do."