FDNY Christens Shipboard Simulator at Fire Academy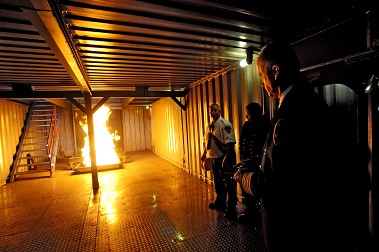 Senior staff, including the Fire Commissioner Daniel Nigro, First Deputy Commissioner Robert Turner and Chief of Department Edward Kilduff (pictured), view the engine room fire simulator aboard the new Shipboard Simulator.
New York City's 520 miles of coastline just got a little safer.
The FDNY christened a new Shipboard Simulator named "Port Security" at the Fire Academy on Aug. 26, which mimics the conditions firefighters face while fighting fires aboard a boat or ship.
"The Fire Academy is truly a training facility like no other, and this only enhances it," Fire Commissioner Daniel Nigro said. "It creates the very real and very dangerous situations our members find themselves in."
The four-story, 132 foot-long ship simulator, includes multiple training locations which recreate conditions firefighters would encounter aboard a vessel, including engine room fires, galley (kitchen) fires, oil tanker emergencies and fires on the ship's deck.
It will be used by FDNY members whose response area includes the coastline, as well as other agencies throughout the area.
"We now have the tools to better protect our coastline," Chief of Department Edward Kilduff said. "And this will only enhance our collaborations with the Coast Guard and other agencies in New Jersey and Connecticut."
Shipboard fires pose unique challenges to firefighters because of the layout, restricted maneuverability of the closed quarters, ships' crew responsibilities and water supply challenges, as well as potential hazmat situations – all factors for which firefighters must be prepared in advance.
"FDNY Marine Operations has made huge strides in developing regional assets over the last few years, and this is a tremendous example of it," Chief of Special Operations William Seelig said.
The $3.3 million training simulator was funded through the Federal Emergency Management Agency's (FEMA) Port Security Grant Program for regional training of City, State and Federal agencies in New York and New Jersey.
"Everything about this facility is truly world class," Deputy Commander of the U.S. Coast Guard, Sector New York, Capt. Jeffery Dixon said. "Having the right equipment and right training makes all the difference in the world."