FDNY Reminds New Yorkers to be Vigilant about Fire Safety after Fatal Fire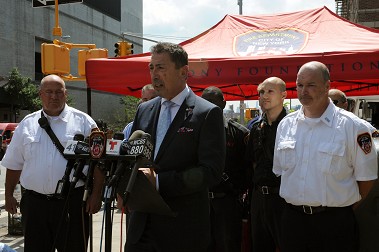 Fire Commissioner Daniel Nigro speaks about fire safety education.
Fire Commissioner Daniel Nigro said a fatal 4-alarm fire in Hamilton Heights, Manhattan, on Aug. 18, should remind all New Yorkers about the importance of two critical fire safety messages.
FDNY fire marshals said the tragic fire, which killed a 15-year-old girl and injured numerous firefighters, was caused by a power strip plugged into an extension cord. The cord also was run under a heavy piece of furniture.
Members of the FDNY Fire Safety Education Unit note that power strips should never be plugged into extension cords, as the cords are only for temporary use and cannot support the electricity needed to run a power strip. They also note that furniture and carpets placed on top of any electrical cord damages the cord and can spark a fire.
In addition, fire marshals said that apartment doors were left open, enabling the fire to spread quickly throughout the building. Closing a door slows the spread of fire and can greatly decrease damage caused.
"We are stressing things everyone can do to prevent a tragedy like this in their own home," Commissioner Nigro said during a press conference in the neighborhood on Aug. 19.
Learn more about how to keep your home fire safe.