The FDNY Reminds all New Yorkers to be Safe this July 4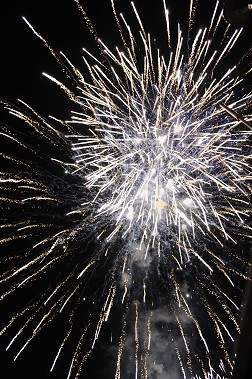 Macy's July 4 Fireworks display
Independence Day is a great time to gather with friends and family and celebrate the season, but the FDNY wants all New Yorkers to remember to be safe as well.
Fireworks
The handling and selling of fireworks is illegal in the state of NY, and can result in hefty fines or imprisonment. In 2014, FDNY fire marshals already have arrested 14 people in possession of illegal fireworks worth nearly $17,000.
Each year in the United States approximately 10,000 people are medically treated for fireworks-related injuries. Almost half occur in children under 14-years-old.
You can call 311 or 911 for more information or to make an anonymous report.
Barbeque
Before Using Your Grill
- Check the tubes that lead into the burner for any blockage from insects or food grease. Push any blockage through to the main part of the burner.
- Check the propane hoses for cracking, brittleness, holes and leaks. NEVER use a flame to check for gas leaks.
- Inspect the propane tank. If it has dents, gouges, bulges, corrosion, leakage, or excessive rust, return the tank to the propane gas distributor.
- Move propane hoses as far as possible from hot surfaces and dripping grease.
- Position the grill in an open area at least 10 feet away from buildings, railings and out from under eaves and overhanging branches.
- Have a qualified service provider make all repairs – do not attempt it yourself
When Using Your Grill
- Grills must be used outside ONLY and NEVER in an enclosed area (i.e. a trailer, tent, house or garage).
- Use barbecue utensils with long handles to avoid burns and splatters.
- Wear short or tight fitting sleeves and use flame-retardant mitts.
- Never leave a lit grill unattended. Have a garden hose/bucket of sand nearby to extinguish flare-ups.
- It is illegal to store or use a propane grill and use a charcoal grill on the roof of any building or on the terrace/balcony of an apartment building.
Propane Tanks
- Propane tanks should be secured in an upright position in the back seat of your car or bed of your truck, with transportation plugs on the outlet valve connection.
- Avoid having passengers in the car, especially children. Never leave a propane tank unattended in your car.
- Never store a propane tank indoors or below ground level.
- When the propane tank is connected, the grill must be kept outside ONLY.
- When not in use, the propane tank valve must be turned to the OFF or CLOSED.