FDNY Members Rescue Woman on Subway Tracks – and Get a Surprise Irish Reunion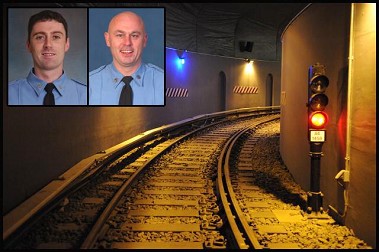 Rescue Medic Niall O'Shaughnessy (left) and Firefighter Sean Cummins.
FDNY members often find themselves responding to calls for a person on the subway tracks, but on June 29, the job was a little different.
At around 6 a.m. firefighters from Rescue 1 and Rescue Paramedics from Station 4 responded to a call for a person on the tracks at 49th Street and Broadway in Manhattan.
Once they arrived and found the tracks' power was off, Firefighter Sean Cummins jumped down to help.
The woman was lying in a small space under the platform, alongside the tracks. A police officer had reached her soon before, and was trying to keep the woman from moving. She had been listening to music on headphones that were now tangled in her hair and both her shoulder and abdomen were injured.
As they worked to calm her and move her to a longboard, Rescue Medic Niall O'Shaughnessy jumped between the subway cars and onto the tracks to help. He began assessing her injuries and administered an IV as they continued preparing to remove her to the street. They were pleased she was alert and seemed to be doing well under such circumstances.
Firefighter Cummins said he was speaking to the woman to keep her calm as everything was happening. As he talked, Paramedic O'Shaughnessy heard Firefighter Cummins had an accent and asked, "Where are you from?"
The victim, thinking he was speaking to her, said "Belfast." Firefighter Cummins then said he was from Dublin, and Paramedic O'Shaughnessy said he was raised in Limerick.
The two men said the police officer then joked, "What is this, an Irish reunion?"
They stabilized the woman and removed her from between two subway cars. She was transported to Bellevue Hospital in stable condition.
Both men said they respond to this type of emergency regularly, but rarely see someone doing so well – and the spontaneous Ireland meet up was a bonus.
"To say she was lucky was an understatement," Paramedic O'Shaughnessy said.
Firefighter Cummins added, "I was just delighted in general that she was ok. Only in New York does something like this happen."