FDNY Firefighters and EMTs Begin Carrying Intranasal Naloxone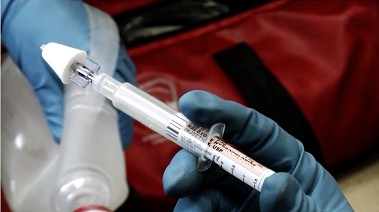 Naloxone
More than 2,000 FDNY firefighters and EMTs now are trained and equipped to administer intranasal Naloxone – a life-saving medication used to treat patients suffering from the effects of a heroin or prescription opioid drug overdose starting July 1.
They join more than 900 FDNY paramedics who have been trained to use the medication for more than 40 years.
The New York State Department of Health created a special protocol in January enabling FDNY firefighters and EMTs to carry and administer intranasal Naloxone (also known by its brand-name, Narcan). Training began in March, and all 205 FDNY Engine Companies and ambulances staffed by EMTs will carry this treatment when responding to serious medical emergencies.
Already in 2014, paramedics have used the drug to treat opioid overdose more than 3,200 times
Opioids are narcotic pain relievers, including legal and illegal drugs like heroin, codeine and oxycodone. Patients experiencing opioid overdoses can exhibit decreased breathing, constricted pupils, aspiration, and altered mental status, and can be fatal. Administering naloxone rapidly reverses the effects of opioid drug overdoses.