FDNY Football Team Raises $62K for Families of the 19 Prescott, Ariz., Hotshots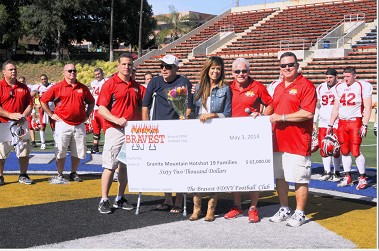 The Bravest FDNY Football Club presents a check to for $62,000 to the families of the Prescott, Ariz., firefighters. (L to R) Lt. John Rosati, Head Coach for the team; Joe Woyjeck, father of Arizona FF Kevin Woyjeck; Juliann Ashcroft, wife of Arizona FF Andrew Ashcroft; retired FF Steve Orr, Assistant Head Coach and Vice President for the team; and Lt. Troy Roberts, President of the team.
Nine months ago, the Bravest FDNY Football Club began selling memorial t-shirts honoring the 19 Granite Mountain Hotshots who died in the line of duty last year. In that short time, they raised more than $62,000 for the hero firefighters' families.
"That's what we do as part of the Football team – we play to give back," said Firefighter Paul Neuman, Ladder 28, who has played on the team for 11 seasons. "We always play for charity, and what better charity than this? Especially after 911, when they helped us so much."
The 19 Prescott, Ariz., firefighters died while fighting the Yarnell Hill fire in Arizona on June 30, 2013. The fire spread quickly across more than 6,000 acres in just a few days. The fire trapped and killed 19 firefighters.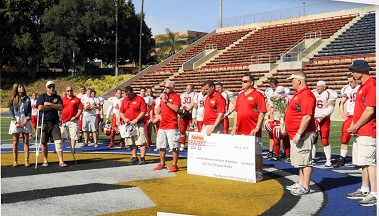 The check was presented to the families of the Granite Mountain Hotshots families after a football game between the Bravest FDNY Football Club and the California Blue Knights.
The Bravest Football Club presented a check directly to the firefighters' families in May, and said they hope to present another.
"It's not much, but we want to help them anyway we can," Firefighter Neuman said.
For more information or to order a t-shirt visit http://www.bravestfootball.com/