FDNY EMS Promotes Eight Officers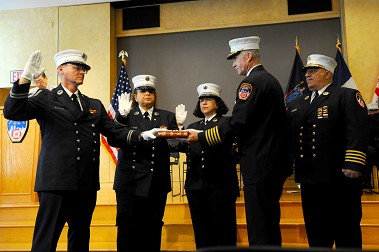 The new EMS Deputy Chiefs are sworn in.
It was a proud day for the FDNY's Emergency Medical Service as eight officers were promoted on June 16.
"Today you are being rewarded for years of hard work and dedication," Fire Commissioner Daniel Nigro said. "Your leadership will make a difference every day."
Chief of Department Edward Kilduff added, "Thank you all for identifying yourselves as leaders of our team. Nobody in the world does this work better than FDNY EMS."
Three Deputy Chiefs and five Captains were promoted in the ceremony at FDNY Headquarters. They represent 172 years of experience.
"Keep your eyes and ears open, and leave footprints for future leaders to follow in you," Chief of EMS Abdo Nahmod said.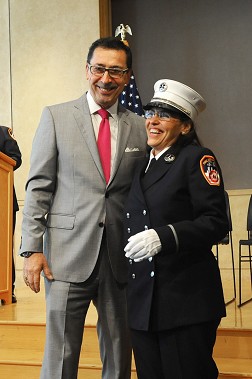 Fire Commissioner Daniel Nigro with his new Executive Officer, Capt. Elizabeth Cascio.
Among the promoted members was Capt. Elizabeth Cascio, who will serve as the Fire Commissioner's Executive Officer. She has over 30 years of EMS experience and has worked with the Commissioner for many years, including when he served as Chief of EMS. She will be the first woman and first EMS officer in this role.
"This is exciting, my goal is to help the Commissioner move the Department forward," she said. "I think we make a great team."