FDNY Celebrates Medal Day 2014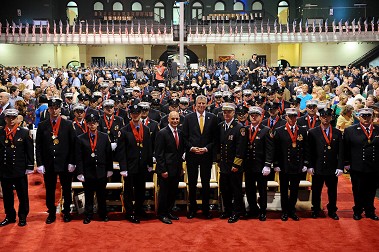 Mayor Bill de Blasio, Fire Commissioner Salvatore Cassano and Chief of Department Edward Kilduff with the 2014 Medal Day recipients.
The FDNY's most heroic members were honored on June 4, during the 145th annual FDNY Medal Day.
"We're paying tribute to the best amongst us, who are examples of what a hero is," Mayor Bill de Blasio said during the ceremony at the 69th Regiment Armory in Manhattan.
Sixty-five members received recognition for rescues in the last year.
"This is the best day of the year for the FDNY," Fire Commissioner Salvatore Cassano said. "This inspiring group does not know how to quit until the job is done. And I know the future of the Department is in good hands with all of you."
Among the honored members was Lt. Robert Lee, who received the James Gordon Bennett Medal, the Fire Service's highest honor.
On Oct. 28, 2013, he saved a woman and a girl from a fire in the Bronx, moving them past multiple obstructions to save their lives. During the rescue he said he kept thinking about his wife and daughter, who are around the same age as the fire victims.
"It was a hazardous condition, fortunately it was a success and it was definitely a team effort," he said, adding that he is looking forward to meeting the people he rescued one day.
He added that he enjoys Medal Day because, "This is just extraordinary, you see that [life-saving rescues] happen across the city every day."
EMT Brendan Hernandez received the Christopher J. Prescott Medal and his partner, EMT Jean Altidor, Jr., received the Chief James Scullion Medal for an incident on June 10, 2013, where they wrestled a gun away from a patient who had shot a police officer.
"It feels good to know we can make a difference in this city," EMT Hernandez said.
The rescue of a woman in the Bronx on Sept. 14, 2013, also earned two firefighters medals. Firefighter Vincent Musacchio received the Hugh Bonner Medal/Honor Legion Medal and Walter Scott Medal, and Probationary Firefighter Ryan Blackwell, who only had four months on the job and whose father, Firefighter Christopher Blackwell, was killed on Sept. 11, 2001, received the Probationary Firefighter Thomas A. Wylie Medal.
And the Deputy Commissioner Christine R. Godek Medal was presented to the Manhattan Serial Arson Task Force, including Supervising Fire Marshals Thomas Kane and Eric Hansen, and Fire Marshals Michael Kavanagh and Philip Meagher, for the arrest of a serial arsonist on Sept. 8, 2013.
During the ceremony, retired Firefighter Kevin Flood's son, Colin, 8, who has Acute Lymphocytic Leukemia, was given the Lieutenant James Curran/New York Firefighters Burn Center Foundation Medal alongside the members of his father's firehouse, Engine 210. He also was sworn in as a Junior Firefighter.