FDNY Graduates 286 Probationary Firefighters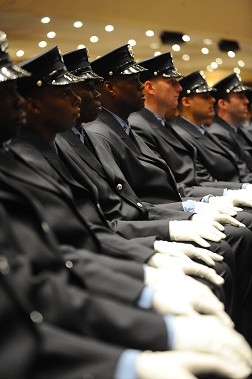 The probationary firefighters during their graduation ceremony.
The FDNY proudly graduated 286 new probationary firefighters on June 3, the first class of 2014.
"Thank you for agreeing to protect the people of New York City," Mayor Bill de Blasio said. "A lot of people couldn't do it, but you could, and that's makes us so proud of you."
The class valedictorian was Probationary Firefighter Joseph Andres, salutatorian was Probationary Firefighter Michael Hayes and the physical fitness award went to Probationary Firefighter William Roe.
Forty-five percent of the graduates identify as people of color and there are four women.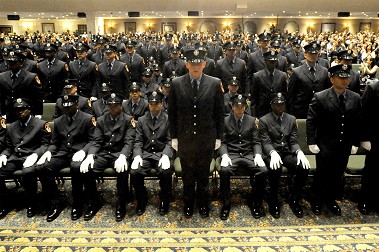 The Fire Commissioner requested the class's 100 military veterans to stand and be recognized during the ceremony.
"Today, your career in this Department is just beginning; and a few days from now, my time here will be coming to a close," Fire Commissioner Salvatore Cassano said. "It has been an amazing ride. And let me tell you, your time in this job will go by very quickly. But understand this – every single FDNY member wants to you to succeed and thrive, because you're now part of a proud tradition dating back nearly 150 years."
Among the graduates were 100 veterans of the U.S. military. As well as several who had a family member who died in the line of duty, including Matthew Healey, son of Lt. Michael Healey of Squad 41; Keith Kerwin, son of Lt. Ronald Kerwin of Squad 288; Matthew Allen, brother of FF Richard Allen of Ladder 15; Carl Asaro, son of FF Carl Asaro of Battalion 9; John Bergin, son of FF John Bergin of Rescue 5; Chris Otten, son of FF Michael Otten of Ladder 35; Scott Barocas, son of Capt. Sheldon Barocas of Engine 251; Dennis Murray, son of Lt. John Murray of Engine 165; James Tancerdi, son of Lt. Vincent Tancredi of Ladder 47; Ryan Mosiello, son of Fire Marshal Steve Mosiello; Thomas St. George, son of FF William St. George of Special Operations Command; Lawrence Sullivan, son of FF Lawrence Sullivan of Rescue 5; Chris and Erik Wieber, sons of FF Robert Wieber of Engine 262; and Christopher Guerzon, son of NYPD Detective Richard Guerzon.
"Continue learning and continue educating yourself," Chief of Department Edward Kilduff said. "We are extremely proud of you. Keep up the good work and we look forward to working with you in the field."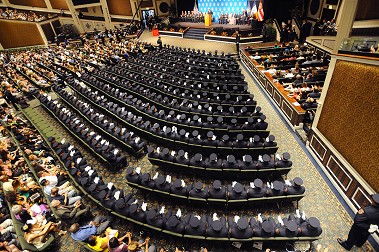 The new probationary firefighters will be assigned to units throughout the five boroughs.
The graduates will be assigned to units throughout the five boroughs.
"I've dreamt of this day for a long time, which may be why I feel I'm still dreaming," Probationary Firefighter Andres said. "It's known to be a calling and it's one that chooses you."
Also graduating was Probationary Firefighter Raheem Hassan who said he was "extremely happy, this is the greatest Department in the world."
Probationary Firefighter Vanessa Schoening described the Academy as "18 weeks of intensity – both physically and mentally." But said it was a great experience and "this is an amazing accomplishment for me."