Firefighters Rescue Two from Brooklyn Fire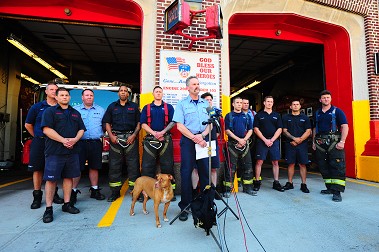 Capt. Daniel Florenco speaks about the rescue alongside the firefighters from Engine 290/Ladder 103
FDNY firefighters from Engine 290/Ladder 103 pulled two from an early morning fire in Brooklyn on June 2.
"Our training really prepares us," Capt. Daniel Florenco said. "You don't have to think in situations like this, you can just react."
Firefighters were called to the six-story building on Georgia Avenue at around 3 a.m., and they could see heavy smoke coming from the second floor of the building when they arrived.
They quickly located the fire apartment and forced open the door, knowing there were victims inside. One of the apartment's residents had already jumped out the window to an alleyway.
Inside was smoke that banked to the floor and heavy fire to the right.
They moved down the hallway and began to search the first bedroom. There they found a semi-conscious woman, who they pulled into the hallway outside the apartment.
They went back inside and into a second bedroom where they found an unconscious woman. They planned to remove her through a window, but realized they would need to go out to the fire escape through an adjoining bedroom. Luckily, firefighters had gotten a handle on the fire and they were able to remove her through the front door of the apartment.
Once in the hallway, they gave her CPR then brought her downstairs to awaiting EMS members.
They were then told there were additional children inside, so they went back in to search, but later learned they had self-evacuated before firefighters arrived.
The cause of the fire was accidental, an overloaded power strip with an extension cord.
"The heavy fire and heat really taxed all the members working," Capt. Florenco said. "They did a great job today."