Get to Know: Sophie Worrell, Director of Special Projects and Events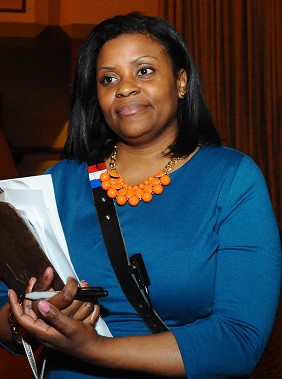 Sophie Worrell, Director of Special Projects and Events
Name: Sophie Worrell
Title/Rank: Director of Special Projects and Events
Work Location: FDNY Headquarters, Brooklyn
Tenure with the Department: About 1 year
Job Description: Plans and oversees FDNY events and ceremonies, such as promotions, memorials and Medal Day.
What is your favorite part of your job? It continues to be logistics. I love logistics. Planning things out, solving issues and getting from point A to point B. It's my niche, my passion.
What do you like most about your coworkers? The team effort that they always have; you can always rely on them to get the job done. And they're pleasant people to be around.
What did you do before joining the FDNY? I was doing logistics for the Mayor's Office. Before that, I was in the journalism field and I have my Bachelor's in communications. I wanted to compliment what I was doing at that time, because I worked with city agencies, so I received my Master's in public administration. It made the most sense with what I was doing. I planned to stay in journalism, but it turned out I moved into this industry. It was unexpected!
If you had a different career, what would it be? I think this was really what I was meant to do … But I guess I might have a career in singing. I did that a while ago and trained for that. That was the career path I thought I was going to go into. My training was in opera, but I love R&B. I left that a long time ago. Now I sing to my son.
What was your first job? My very, very first job, I was an employee at McDonalds. I just mopped the floors first and then moved up to cashier. I learned a lot from that job.