EMS Week Competition and Health Fair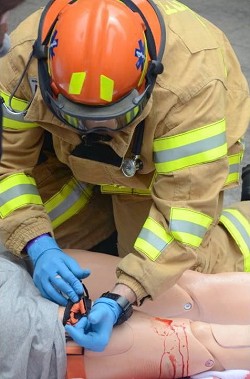 Ten teams of paramedics and EMTs competed in the annual EMS Competition.
FDNY paramedics and EMTs across the city had a busy day on May 22, as they responded to a vehicle that crashed into a sidewalk café. Multiple pedestrians and a driver were injured with major wounds, broken bones and the driver having a diabetic emergency.
And the same emergency happened 10 times.
It was the scenario given to five teams of paramedics and five teams of EMTs for the annual EMS Week Competition in Metrotech Commons.
"Today you truly demonstrated the great work you do every day," Fire Commissioner Salvatore Cassano said. "Keep up the great work."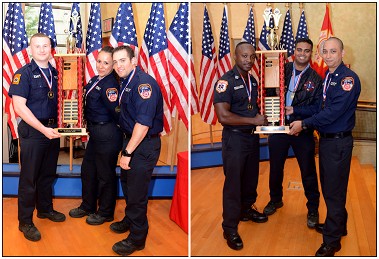 The winning paramedics from Station 26 (right) and EMTs from Station 7.
Paramedics from Station 26 (Division 2) – including Lt. Kevin Ramdayal, and Paramedics Miguel Ayala Florez and David Cadogan – won first place honors, followed by Station 4 (Division 1), who won second place honors and Station 58 (Division 3), which won third.
Station 7 EMTs (Division 1) – including EMTs Filomena DeLeon, Michael Discala and Christopher Gallo – received first place honors, with Station 45 (Division 4) earning second place and Station 26 (Division 2) placing third.
"Thank you for everything you do, we couldn't be more proud of you," Chief of EMS Abdo Nahmod said.
The event also included fire safety demonstrations and free CPR classes.