FDNY Celebrates the Work of EMS Members at 20th Annual Second Chance Brunch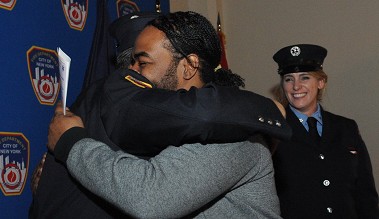 Jessi Saldana meets the FDNY EMS members who saved his life after he went into cardiac arrest last year.
Each year the FDNY celebrates the work of its paramedics and EMTs in a special way, reuniting them with cardiac arrest victims they saved at the Second Chance Brunch. The event on May 21 also was 20th anniversary celebration of the Brunch, which is the highlight of EMS Week.
"They do all they can on every call to provide a second chance for their patients, quickly arriving at medical emergencies; armed with the best equipment, the best training and tremendous drive and compassion," Fire Commissioner Salvatore Cassano said during the ceremony at the Fort Hamilton Army Base. "Seeing the patient you saved happy, healthy and enjoying life once again really demonstrates how rewarding this career can be."
Chief of EMS Abdo Nahmod added, "This is what we do, we give a second chance to life. It's an honor to see all these survivors here today."
Six cardiac arrest survivors got to meet their rescuers, including Ralph Miles, who suddenly stopped breathing on the morning of Dec. 21, 2013. FDNY Paramedics Daniel Almandoz and Joseph Yu found he had a lethal cardiac rhythm and they initiated hypothermia treatment to preserve his brain function and shocked him four times with a defibrillator to restart his heart. Then Lt. Scott Rothschild, EMTs Joshua Brownstein and Edison Gbor, Lt. Peter Frank and Firefighters Steven Donadio, John Bernard, Ewart Henry and Stephen Urso helped continue treatment as he was transported to the hospital.
"I'm very humbled to be here," he said. "They never gave up on me. I always wondered what they looked like and now I get the chance to thank them in person. I can't explain how thankful I am."
Another survivor, Jessi Saldana, was experiencing chest pains and went into cardiac arrest on Feb. 11, 2013.
"These are great people," he said of the first responders who saved his life, including FDNY EMS Lt. Felicks Granovskiy, Paramedics Joy Canter and Joseph Fortis, and EMTs Shakeel Ajaz and Margaret Devlin. "They're like part of the family now."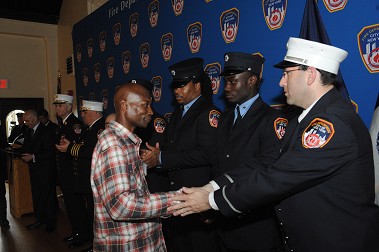 Cardiac arrest survivor Ralph Miles meets the heroes who saved his life.
Sudhir Mongia, who said he had been anxious to meet his rescuers for more than a year, was reunited with first responders as well as Jon Dohlin, a bystander who immediately began CPR.
"I could tell he was in deep trouble, and started CPR," he said, noting it was the first time he had used CPR after receiving training five years prior. "It was a big effort by many people. I can't tell you how wonderful it feels to be here and see him."
Mr. Mongia said he was overwhelmed by the reunion.
"It's emotional and satisfying to meet them," he said. "They are specially chosen people who save lives."
Learn CPR for free from the FDNY's training unit.