Employee Recognition Awards Ceremony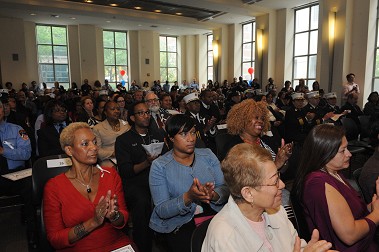 The hundreds receiving awards during the Annual Employee Recognition Awards ceremony at FDNY Headquarters.
Dedicated FDNY members were celebrated on May 16, during the annual Employee Recognition Awards ceremony, which honors staff with more than 20 years of service to the Department, as well as those who have earned a university degree in the last year.
"This shows how the Fire Department is a place like no other," Fire Commissioner Salvatore Cassano said during the event at FDNY Headquarters. "Every one of you here today has helped save lives."
Among those recognized were Associate Accountant Murray Rosen, who has worked for the FDNY for 50 years, and Clerical Associate Carroll Bell, who has supported the Department for 45 years. Judith Salgado, Deputy Director of Fire Communications, received a Juris Doctor degree from New York Law School.
"Your loyalty and commitment to the FDNY is remarkable," Chief of Department Edward Kilduff said. "You support our mission, and that's what makes the Department so great."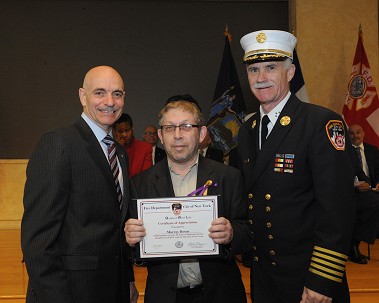 Fire Commissioner Salvatore Cassano and Chief of Department Edward Kilduff honor Murray Brown, who is celebrating 50 years with the FDNY.
In total, one person was honored for 50 years of service, one with 45 years, five for 40 years, five with 35 years, 32 with 30 years, 188 with 25 years and 147 for 20 years, and six were honored for educational achievement.
"I look around this room and see dedication to life in every aspect of this job," Chief of EMS Abdo Nahmod said. "It's all about you, the people here today."