Never Forget: The 9/11 Memorial Museum Opens in Lower Manhattan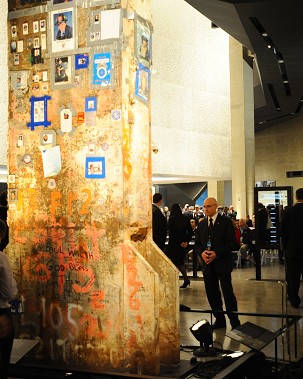 Fire Commissioner Salvatore Cassano views the final beam. The Commissioner was one of the first on the scene after the 9/11 attacks and was at the site when both towers fell.
The opening of the 9/11 Memorial Museum on May 15 remembered the thousands killed on Sept. 11, 2001, including 343 FDNY members.
Among the numerous dignitaries in attendance were Fire Commissioner Salvatore Cassano, Chief of Department Edward Kilduff and First Deputy Commissioner Don Shacknai.
Retired FDNY Lt. Mickey Cross, who was in a World Trade Center stairwell when the towers collapsed, was among the few chosen to speak at the solemn event. He was joined by FF Jeff Coniglio, BC Jim McGlynn, FF Mike Meldrum, DC Jay Jonas, FF Thomas Falco, DC Richard Picciotto, FF Robert Bacon, FF Sal Dagostino, Lt. Matthew Komorowski and FF James Efthimiades.
Alison Crowther also spoke with Ling Young. Ms. Crowther's son, Welles, is known as the man in the red bandanna, who helped usher countless people to safety – including Ms. Young – before losing his own life when the towers collapsed. A partially completed FDNY firefighter application was later found in Welles Crowther's apartment, so the Department named him an Honorary Firefighter in 2006.