Engine 282/Ladder 148 Celebrates 100 Years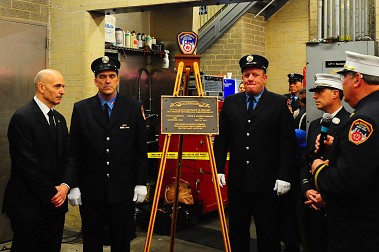 The centennial plaque is blessed on the firehouse's apparatus floor.
Past and present FDNY members gathered at Engine 282/Ladder 148 on May 15, to celebrate the firehouse's centennial.
"When this firehouse first opened 100 years ago, it stood as a symbol of safety, service and protection to a growing community," Fire Commissioner Salvatore Cassano said. "And thanks to dedication of the members who have served here over those 100 years, it continues to stand for those ideas today."
Chief of Department Edward Kilduff added, "You have a wonderful legacy to celebrate today."
The firehouse is located in Boro Park, Brooklyn, and many said they had been looking forward to celebrating the day with the surrounding community.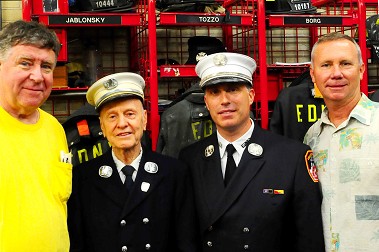 Four captains of Engine 282, (L to R) Capt. James Brennan, Capt. John LeVine, Capt. Bill Lilley, and Capt. Jim Kielty.
"Today is a very special day for us," Capt. Mike Doda, Ladder 148, said. "It's a way for us to celebrate the legacy of those who came before us."
Among the numerous former members attending the ceremony, were three past captains of Engine 282, including James Brennan, John LeVine and Jim Kielty.
"This is a great way to interact with the community and celebrate this milestone," current Captain of Engine 282, Bill Lilley, said. "It's a very proud day for us."
Retired Capt. LeVine, who retired from the firehouse in 1977 added, "being here really gets the blood flowing. It brings back many happy memories."