FDNY Officers Management Institute Graduation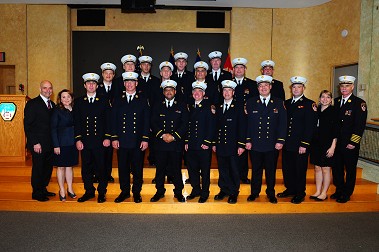 Fire Commissioner Salvatore Cassano, Chief of Department Edward Kilduff, the Columbia University staff and graduates.
It was a happy day for 16 members as they graduated from the FDNY Officers Management Institute (FOMI) on May 12.
"Everyone in this Department and everyone affiliated with the Department are saving lives," said Fire Commissioner Salvatore Cassano, who is a graduate of the program. "This is an excellent program that only helps the Department grow and change."
FOMI is a six-month program offering leadership and management training to fire and EMS members. It includes presentations by and discussions with experts from the corporate community, government and homeland security.
"Seeing the quality of people who go through this program and the end result we, as a Department, gain from the experience is really remarkable," Chief of Department Edward Kilduff said during the ceremony at FDNY Headquarters.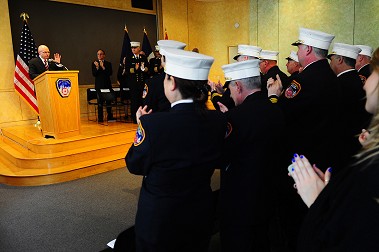 Fire Commissioner Salvatore Cassano receives a standing ovation from the audience.
As part of their studies, the 16 graduates created projects that they believe will enhance the Department's policy and strategy, including Promoting Inclusion, Best Practices for Effecting Change, a Mentor Program for the EMS Command and the Revision of Probationary Firefighters Development Program.
FOMI is offered through Columbia Business School Executive Education. This is the 12th class to graduate from the program, which has trained approximately 200 FDNY personnel. It is funded by the FDNY Foundation and is taught at Jack Welch Executive Training Center in Crotonville, NY.
"You are brave, thoughtful, smart and caring," Joann Baney, FOMI Faculty Director, told the group. "You selflessly do good work."
During the ceremony, Ms. Baney was named an Honorary FDNY Battalion Chief for her commitment to the program.
"Being chosen for this program is a great honor for us all," Battalion Chief John Sullivan, one of the graduates, said. "This has been a tremendous learning experience."