Daniel Nigro Named 33rd Fire Commissioner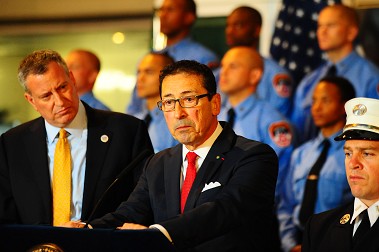 Mr. Nigro is appointed as the 33nd Fire Commissioner by Mayor Bill de Blasio.
Mayor Bill de Blasio announced on May 9 the appointment of Daniel Nigro to serve as the 33rd FDNY Fire Commissioner.
"He is an exemplary leader – a born leader," Mayor Bill de Blasio said during the announcement at the FDNY Fire Academy. "And he has a real love for this Department."
A 32-year veteran of the FDNY, Mr. Nigro served as Chief of Department after Sept. 11, 2001, leading the FDNY through search, rescue and recovery operations at the World Trade Center site. He also was instrumental in merging the FDNY and New York City Health and Hospitals Corporation's EMS division in 1996.
"Thank you for having faith in me to lead the Department at this exciting time," Mr. Nigro said. "As we have always said, this is the greatest job in the world and I look forward to taking it into a future that will make all New Yorkers proud."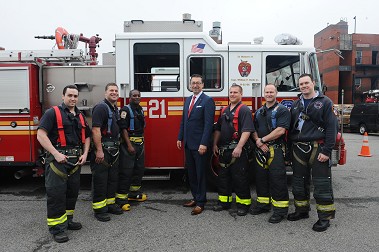 Mr. Nigro with the members of Engine 21, the first fire company with which he worked.
Son of a FDNY fire captain, Mr. Nigro began his career as a firefighter in 1969, and served as a Lieutenant, Captain and Battalion Chief in Manhattan, Queens and the Bronx, before being named Assistant to Deputy Fire Commissioner in 1988. Throughout his distinguished career, he has worked as Chief of Uniformed Personnel, Chief of Health Services, Battalion and Deputy Chief, Deputy Assistant Chief of Operations, Chief of EMS and citywide tour commander.
In 1999, he was appointed Chief of Operations, where he maintained preparedness, staffing and availability of units for fire and emergency response, and instituted a program to oversee key areas of accountability.
On Sept. 11, 2001, Mr. Nigro was appointed Chief of Department upon the death of his close friend Chief Peter J. Ganci, Jr., at the World Trade Center. In this role, he was instrumental in guiding the Department through its loss after 9/11, and assisted in providing plans to move the Department forward.
Of the appointment, Lt. Christopher Ganci, son of Chief of Department Ganci, said, "My dad would be beaming with pride to see this momentous day.