Motherís Day Surprise: FDNY Members Help Deliver Two Babies on NYC Streets in One Week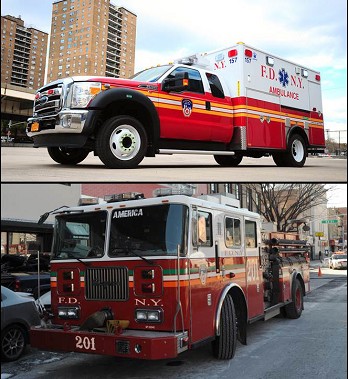 Two expectant mothers got an early Mother's Day surprise this May when their babies arrived a little sooner than planned – and on the sidewalk. Lucky for them, FDNY members were able to help.
May 1
EMTs were called to the scene of a woman giving birth on 105th Street in Manhattan at around 8:30 a.m. on May 1.
It was EMTs Erma Prentice and Robert Goldberg's first job that morning. When they arrived, they found the woman sitting on a bench outside, holding the baby girl in her arms.
The umbilical cord was still attached, so the EMTs asked her to lie down and they cut the cord and treated the girl.
"[The baby] was crying, pink and pretty," said EMT Prentice, who said this was her first baby delivery since joining the Department in 2013. "The mom did great."
The woman told them she was heading to the hospital after her water broke just an hour before.
They transported the mother and newborn to Mt. Sinai Hospital.
May 3
Firefighters from Engine 201, including Lt. Brian Concannon, and Firefighters Jorge Cornejo, William Smith, Gary Chew and Salvatore Pipitone, received a call at around 7:30 p.m. on May 3 for a woman in labor on 59th Street in Brooklyn.
They arrived to find the woman giving birth in an area between the sidewalk and the street. It was raining, so her relatives held a comforter over her head to protect her.
Firefighters loosened the umbilical cord as she gave birth to a healthy baby girl. They then cut the cord and passed her to arriving EMS members.
The mother and baby then were transported to Lutheran Hospital.
"Everyone did a great job," Lt. Concannon said. "It was definitely a group effort."