FDNY Firefighter Meets 12 Blood Donors Who Saved His Life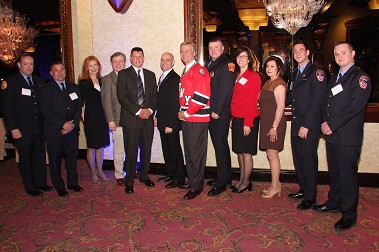 Fire Commissioner Salvatore Cassano, President and CEO of the New York Blood Center Dr. Christopher Hillyer join Firefighter Robert Wiedmann (fifth from the left) as he met 12 of the blood donors who helped save his life.
Fire Commissioner Salvatore Cassano joined New York Blood Center President and Chief Executive Officer Dr. Christopher Hillyer on May 7 for a very special event, introducing Firefighter Robert Wiedmann to 12 of the blood donors who saved his life.
"Blood donors are unsung heroes who save the lives of people, like Rob, who they may or may not know," Fire Commissioner Salvatore Cassano said during the event in Woodbury, NY.
Firefighter Wiedmann, Rescue 2, was critically burned while operating at a fire on Dec. 19, 2011.
He was taken by ambulance to Cornell New York Presbyterian Hospital, where he received approximately 40 units of blood throughout the course of his three and a half month hospitalization. Many donors gave in his name at numerous blood drives, including four FDNY members who got to meet Firefighter Wiedmann at the ceremony: Firefighter Anthony Aragona, Ladder 140; Firefighter Anthony Kennedy, Ladder 112; EMT Mickey Ginty, Station 3; and retired Firefighter Robert Mahon, Engine 42.
Before he was injured, Firefighter Wiedmann said he regularly donated blood multiple times a year.