FDNY EMS Week 2014 Poster Unveiled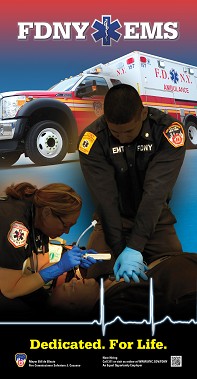 The 2014 EMS Week poster
The FDNY's Bureau of EMS unveiled the EMS Week poster on May 1, highlighting the great work its paramedics and EMTs do every day.
"Our EMS members display professionalism and compassion for their patients on every call," Fire Commissioner Salvatore Cassano said. "They put their lives on the line whenever needed – there's no off day."
This is the 40th anniversary of national EMS Week, which runs May 18 to 24. Designed by Vanguard Direct, it will be featured in more than 300 locations throughout the five boroughs, donated by Van Wagner.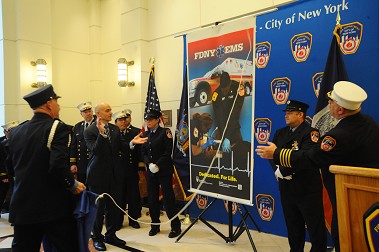 Fire Commissioner Salvatore Cassano and Chief of EMS Abdo Nahmod watch as Paramedic Jessica DeResto and EMT David Weissman unveil the 2014 EMS Week poster in which they are featured.
"No matter what the call, our members respond," Chief of EMS Abdo Nahmod said. "This shows the lifesaving work they do every day."
Featured in the poster are three of the Bureau's most dedicated members, Paramedic Jessica DeResto, and EMTs David Weissman and Elvis Velez.
"This shows what we do for a living," said EMT Weissman, a 28-year veteran.
Paramedic DeResto, who will celebrate her 21st anniversary as a member of EMS in June, said she was honored to have been chosen for the poster, adding, "I love my career and I hope it inspires others to join."