Fire Promotions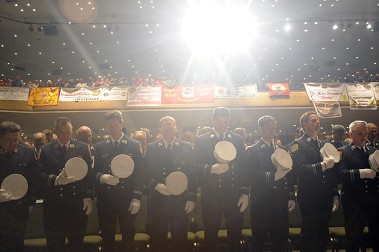 The promoted members. The many banners hung by members of their firehouses are in the background.
The Department celebrated the promotion of 102 rising stars on Apr. 24.
"Each one of you is special and vital to keeping this Department moving forward," Fire Commissioner Salvatore Cassano said during the ceremony at the Christian Cultural Center. "As of this moment, your careers in this Department have forever changed – for the better."
The promoted members included 18 battalion chiefs, 40 captains and 44 lieutenants.
"You've earned this promotion," Chief of Operations James Esposito said. "We want you to become the leader we know you can be."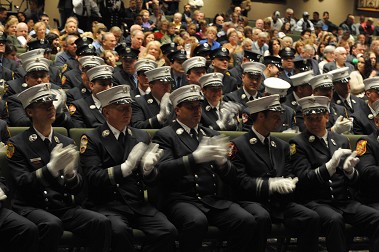 The newly promoted members will be assigned to units throughout the five boroughs.
Among them were three whose fathers were killed on Sept. 11, Battalion Chief John Feehan, Capt. Patrick Burns and Lt. Matthew Ryan.
"This is a little emotional, but it's fulfilling as well," Lt. Ryan said. "I just want to make my dad proud and follow in his footsteps."
Also promoted was Capt. Michele Fitzsimmons, now making her the highest ranking female in the Fire Department.
She said, "I'm excited to be captain, but not to leave such a great firehouse behind."
Learn more about some of the promoted members.