FDNY EMS Promotions and Graduation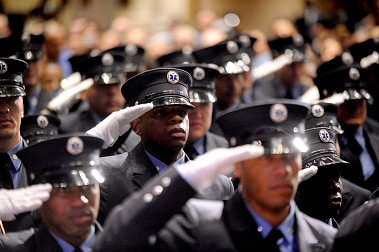 The FDNY's newest EMTs.
The FDNY welcomed 87 new members, and promoted two of its most experienced on Apr. 21.
"This is a day you will never forget and one you've truly earned," Fire Commissioner Salvatore Cassano said during the ceremony at the Christian Cultural Center. "You're joining the busiest and best Emergency Medical Service in the world."
Division Chiefs Roberto Colon and Steven Morelli were promoted in the ceremony and 87 EMTs graduated.
?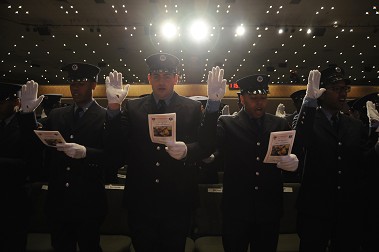 The EMTs take the Oath of Geneva.
The two chiefs represent a combined 58 years of service and experience.
Two of the EMTs, Al Soto and Sean Smith, both served in the U.S. Army. And EMTs Edward Jablonowski and Romulus Lemnaru were named as the class's Academic Achievers.
"We have the best team out there on the street, and now you're a part of that team," Chief of Department Edward Kilduff said. "We're proud to have you with us."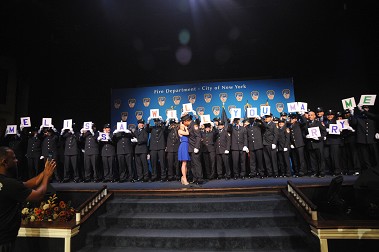 EMT Nicholas Webb has his classmates help him propose to his girlfriend, Melissa.
Chief of EMS Abdo Nahmod reminded the group to follow their passion in their careers, "When you love what you do it hardly seems like work."
The day was an especially happy one for EMT Nicholas Webb, after the event, he asked his classmates to help him propose to his girlfriend, Melissa (she said yes).