FDNY Firefighters Reunite with Woman They Saved at East Harlem Building Explosion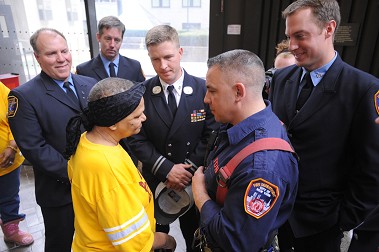 Members of FDNY's Rescue 1 speak with Carmen Quinones. They saved her from the building collapse in East Harlem on March 11.
As Carmen Quinones was preparing for her release from Mt. Sinai Hospital on Apr. 11, the FDNY firefighters who saved her from the March 11 building collapse in East Harlem paid her a visit.
"If they weren't there, I wouldn't be here," she said after hugging Capt. Robert Morris, and Firefighters Rich Miranda, Chris Morgan, Dan Hyland, James Feeley and Mike Geidel.
Hospital doctors, who treated her wounds, including a head injury, bone fractures and cuts, praised the firefighters for helping prevent further injury when removing her from the debris.
"It was a group effort, and a lot of people played a part in her rescue," Capt. Morris said, commending the work of the hundreds of firefighters who not only helped her personally, but also those on hand to keep the group safe, as well as EMS members who provided medical care and transported her to the hospital quickly. "Many hands were at play here making sure everything went smoothly."
He said he and the other members of Rescue 1 were at the rear of the debris pile when firefighters from Ladder 14 reported finding a victim in the rubble. There was a tremendous amount of smoke and dust in the air that made it difficult to see, but they found her surrounded by debris.
"She was in good shape, considering the conditions around her," Capt. Morris said, adding that he believes she was trapped for about 45 minutes.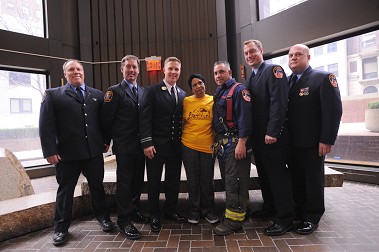 Rescue 1 members with Carmen Quinones.
Firefighter Miranda gave her his mask, because of all the smoke. He said they tried to talk with her, to see if there were others with her for whom they should search, but although she was conscious and alert, she was in shock and unable to communicate.
They packaged her on a board and a chain of firefighters passed her down to an awaiting ambulance.
"I'm happy to see she's doing well," Capt. Morris said.
Yet firefighters said they could not call it a happy day, as Ms. Quinones's daughter was killed in the collapse.
"It's tempered joy," Firefighter Miranda said.
As they left, the members of Rescue 1 invited her to visit them at the firehouse, to which she smiled and said "Definitely. I would love to."